Arts
About Love and Israel – An Israeli Love Story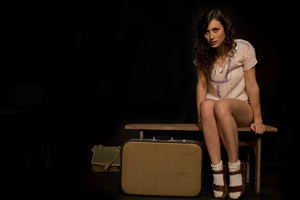 Eighty-four year old Israeli actress and playwright Pnina Gary waited 60 years to write An Israeli Love Story, a 70-minute monodrama about coming of age in pre-state Israel. Her personal story of unrequited adolescent love--gained and then lost again--makes its Washington debut at the Abramson Family Recital Hall in the Katzen Arts Center on September 13 at 7:00 pm, thanks to a collaboration by AU's Center for Israel Studies and Department of Performing Arts, and the Embassy of Israel. 

Inspired by her grandson's sixth grade "Roots" project, An Israeli Love Story evokes the nostalgia and values of pre-state Israel. "I told him about my adolescent years in Nahalal, the moshav in the Jezreel Valley where I was born and raised" Gary said. "Afterwards, his essay was read out in class and his classmates didn't believe that was how life had really been. The disparity between the values on which we were raised on the moshav and those of my grandson's city friends was so vast that I decided it was important to tell them more about what happened here in the beginning. For them, even the War of Independence is distant Jewish history," she continued.
 
The monodrama tells the story of how Gary met and fell in love with a young fighter of the Palmach (the unofficial army of the Jewish settlement in pre-state Israel), and how he died a few days before they were to be married.  While the play is an adolescent love story that anyone can relate to, the backdrop of the play is the battle of Israeli immigrants idealistically fighting to establish the state of Israel in 1948.  "[I] grew up on beautiful ideals like equality and mutual help, and we were against becoming very, very rich and using other people. Today the young people [in Israel] don't grow up on these concepts anymore. It's sad and a little surprising," says Gary.
 
The desire to expose students to the atmosphere and values of pre-state Israel was the attraction for the director of the Center for Israel Studies, Laura Cutler, to bring the play to AU. "Since so many of our programs focus on current aspects of Israeli history, society, culture, and politics, I thought it would be interesting for students to learn about the early days and values of the state," Cutler explained. "I was also struck by how someone could wait 60 years and then write a compelling piece of theater capturing the universal experience of adolescent love." 

Performing Arts Professor Cara Gabriel agreed and asked Ms. Gary to discuss "the process of turning a real life story into a dramatic art." Professor Gabriel is offering a master class at 5:00 pm on September 13 for interested performing arts and literature students. After spending decades in the theater as an actress and artistic director, adapting others' work to the stage, this was Ms. Gary's first foray into creating her own work for the stage. Those interested in attending the master class should contact Professor Gabriel at cgabriel@american.edu.