International
Is The American Jewish Establishment Failing Liberal Zionism?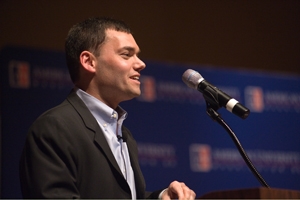 Liberal Zionism is threatened in America because of the failure of mainstream Jewish organizations.
That was the diagnosis of Peter Beinart, senior political writer at the Daily Beast, at a February 17 program cosponsored by AU's Center for Israel Studies.
Delivering the Amos Perlmutter Memorial Lecture, Beinart gave a withering critique of an establishment he said is out of touch with young Jews.
Beinart echoed the theme of his controversial essay, "The Failure of the American Jewish Establishment," published last summer in the New York Review of Books.
"His analysis of the increasing distance of young American Jewish adults toward  the state of Israel, and the disaffection of young Israelis toward liberal democracy, demands the attention of scholars and policy makers as well as the general American Jewish community and of Israeli society," Calvin Goldscheider, scholar in residence at the Center for Israel Studies, said in introducing Beinart.
"There's been an enormous effort to desensitize and distract American Jews, particularly young American Jews, from the reality of what it means to have millions of people who are essentially powerless, vis a vis the state that dominates their lives," Beinart told the approximately 200 audience members gathered at the Cyrus and Myrtle Katzen Arts Center.
Jewish leaders have avoided exposing young American Jews to the harsh realities of life in the West Bank and Gaza Strip for fear that "it would snuff out the all-too-fragile embers of Zionism that are growing within, that the American Jewish establishment desperately wants to nurture among the younger generation," Beinart said.
But those efforts have come up far short—and not only in terms of Israel's obligations to the Palestinians, Beinart contended.
"It's been a failure in creating what I most want my son to be, which is a liberal Zionist, someone who believes deeply in the declaration of Israel's independence, that this will be a state that offers complete social and political equality irrespective of race, religion, and sex, and will be governed according to the principles of freedom, justice, and peace as conceived of by the Hebrew prophets," Beinart said. "And I think in creating that kind of liberal Zionism among young American Jews, the American Jewish community has dismally failed."
One measure of that failure is a 2006 American Jewish Community survey querying young American Jews about their attachment to Israel. Seventy-nine percent of Orthodox Jews ages 18 to 30 said they felt very close to Israel. But among non-Orthodox Jews in the same group, the figure fell to only 16 percent.
"Young American Jews have essentially been asked to make a choice between their liberal values and Zionism, and for better and for worse, and I very much mean it for better and for worse, I think they've by and large chosen liberalism over Zionism."
Other cosponsors of the event were the School of Public Affairs and the Kennedy Political Union.