Literature
Celebrating an Israeli Literary Giant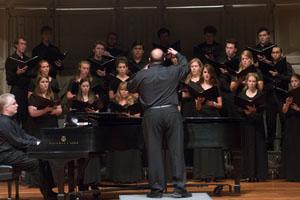 "Erev Shel Shoshanim (Evening of Roses): Moshe Dor's Israel in Poetry and Song" celebrated the acclaimed Israeli poet and lyricist's work.
But the September 13 campus event, cosponsored by the College's Center for Israel Studies, was most of all a celebration of collaboration, starting with Dor and his translator.
"Last spring Barbara Goldberg, AU MFA alum and current visiting writer in the MFA program, told Laura Cutler, acting director of the Center for Israel Studies, that she had translated into English a new work by Moshe Dor, one of Israel's literary giants and the lyricist of Erev Shel Shoshanim," Peter Starr, dean of the College of Arts and Sciences, said in his introduction at the event.
"Over the past six months, Barbara and Laura have convened faculty in the Departments of Literature and Performing Arts to unpack Dor's work in their own particular ways."
Dor, the author of 40 books of poetry, interviews, and children's verse, recipient of Israel's top literary prizes, and Israel's counselor for cultural affairs in London, was formerly distinguished writer in residence at American University. The author, who will be 80 years old in December, was unable to attend the September 13 event, but a video interview of him recorded by Goldberg in Tel Aviv gave those attending in the Katzen Arts Center a taste of the poet's personality.
"He may be older than the state of Israel, and his work is steeped in biblical images and allusions, but I think his work is very young, it's fresh, it's full of vitality," Goldberg said. She described reading the works of Dor as " to breathe, taste and smell like Israel. It's about living in a land where hope and terror live side by side."
Goldberg read several of Dor's poems, which were also recited in Hebrew, from her recent translation, Scorched by the Sun. One of those poems was "Poppy."
In the heart's field of stubble
blooms a lone poppy. Look at it.
Carve its valor on memory's slate:
upright, solitary, red, despite not knowing
if, or when, it will perish from the world
of flora. Indeed, this is my Land
of Israel, staunch in the face of reality,
refusing to become a work of art: a single
poppy in the heart's field of stubble.

"When Barbara commented that Moshe had been the lyricist of Erev Shel Shoshanim, an iconic Israeli folk song that I myself had walked into my wedding to the sound of, we thought of including the Music Program's Dan Abraham in the event," Cutler said. "Dan was familiar with the choral setting of Erev and was enthusiastic about having the AU Chamber Singers perform that work. He also thought we should commission a new choral work of Moshe's poems for the occasion, and thus was born this collaboration between the Center for Israel Studies, the Department of Literature, and the Music Program of the Department of Performing Arts."
Fernando Benadon's composition of three Dor poems from Scorched by the Sun, like Goldberg's translation, was another key element of the event.
"In thinking about a commission, one likes to entrust it to people that you feel comfortable with," said Abraham, conductor of the American University Chamber Singers. "And in approaching Fernando Benadon, who is the current chair of our Department of Performing Arts and a friend, I knew we would be in very good hands."
Abraham noted that while the chamber singers have performed world premieres of several compositions, this was its first commissioned work.
The evening also featured a performance by Matthew van Hoose, musician in residence in the College's Department of Performing Arts, of parts of Paul Ben-Haim's Five Pieces for Piano, Op. 34, as well as a contemporary version of Erev Shel Shoshanim performed by Aaron Shneyer, a graduate student in AU's School of International Service and founder of HEARTBEAT, which uses music to bring Israeli and Palestinian youth together, and singer-songwriter Kevin Skolnick.
It should be noted that the Goldberg-Dor translation partnership is not a one-way street. Dor has also translated Goldberg's work into Hebrew. As for her work translating Dor's poetry, Goldberg said in an interview before the event, "Moshe and I don't write at all alike, not at all. Doing his work is like traveling to another country, and I don't mean just Israel. I mean another country in terms of where the poetry comes from. He is very much affected by landscape. I would say I'm affected by psychological landscapes."
Also greeting those attending was AU alum Renee Best, officer of cultural affairs at the Embassy of Israel.
In an essay written soon after the event, AU student Alex Karmazin summed up its significance this way: "From the standpoint of someone studying the intersection of Israeli history, politics, and society, this evening was invaluable. Aside from hearing the vivid imagery behind Dor's descriptions of Israel, we got insight into what it is like to be an Israeli citizen. As academics, it is easy to look at the history of the nation through the lens of political struggles, wars, and landmark events. This evening . . . brought students to the ground level of what it really means to live in Israel."
Other cosponsors were the College of Arts and Sciences and its Departments of Performing Arts and Literature, the Speigler Endowment Fund, The Word Works, and the Embassy of Israel.