Liberal Arts
Tolstoy the New Face on Campus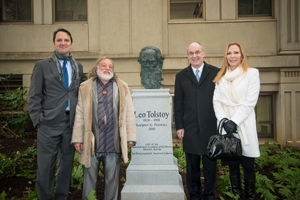 The unveiling of a bust of Leo Tolstoy, donated to the university by renowned Russian sculptor and artist Gregory Pototsky, comes at a perfect conjunction of history and AU's commitment to furthering American and Russian understanding.
The November 15 ceremony was attended by students of Russian history and culture, the artist, and guests that included the Russian ambassador; Tolstoy's descendant Vladimir Tolstoy; and businesswoman and philanthropist Susan E. Lehrman, whose donations made possible the establishment of the Initiative for Russian Culture (IRC) and an endowed chair in Russian culture and history at American University.
"We can think of no better place on this campus to honor Leo Tolstoy and the Initiative for Russian Culture," College of Arts and Sciences dean Peter Starr said of the busily traveled and shaded pathway where the bust stands between the Battelle-Tompkins Building and the Kogod School of Business.
Before the ceremony, Pototsky conducted a master class in sculpture, creating a bust of Lehrman as a gesture of his appreciation of her efforts at fostering international cooperation and understanding. The students also got a master class in kindness: Pototsky, who has more than 70 monuments installed in countries including Russia, the United States, Turkey, France, and Japan, is a cofounder of the International Academy of Kindness. His comments while he sculpted focused as much on the need to foster kindness as art.
Growing Focus on Russian Studies
Pototsky's bust of Tolstoy—he has also done busts of such figures as author and dissident Alexander Solzhenitsyn, actor Gérard Depardieu, writer Paolo Coelho, and actress Natalya Bronzova—is already a favorite subject for campus snapshots. And IRC executive director Anton Fedyashin hopes it will focus attention during campus tours on the growing interest at AU in Russian history, literature, and language.
Since its founding 14 months ago, Fedyashin noted, the IRC has already attracted some 6,000 people to its cultural events, held at the Library of Congress, the embassy of the Russian Federation (whose ambassador has provided unprecedented access to his country's embassy for IRC's free events), and the AU campus.
An October 25 IRC event on the role of the arts in international relations that featured maestro Valery Gergiev, principal conductor of the London Symphony Orchestra and artistic director of the Mariinsky Theater in St. Petersburg, Russia, drew over 700 people to the Library of Congress.
The initiative has already succeeded in its mission of reaching students throughout the Washington, D.C., area, and beyond. Students from AU as well as Georgetown, George Washington, George Mason, Howard, UMD College Park, and even the University of Maryland–Baltimore County have attended IRC events. And students from other schools may soon follow.
On the same day as the unveiling, at a gala dinner in honor of former congressman James Symington sponsored by the American-Russian Cultural Cooperation Foundation, the IRC awarded its first James Symington Award to AU senior Jaim Coddington in the amount of $10,000 to study international relations this summer at the prestigious Moscow State Institute for International Relations.
An Enriching Experience
Fedyashin noted that the unveiling occurred during the bicentennial of the War of 1812, Napoleon's invasion of Russia, which provides the setting of Tolstoy's masterpiece War and Peace. Fedyashin is teaching the novel as part of a Russian history class this semester. His students are not only reading the massive novel, but some recently attended an all-day screening at the Russian Embassy of Soviet filmmaker Sergei Bondarchuk's epic adaptation of the novel.
Fedyashin's students, many of whom witnessed the Tolstoy bust unveiling, find much more than masterful storytelling in Tolstoy's novel.
"Tolstoy did so much research for his epic . . . that he was truly able to embody the progression of thought in it," said Leonora Varvoutis '13, French language/European studies. "The beginning of the novel starts in the early 1800s, the end of the Enlightenment period, and War and Peace is rife with Rousseauian ideals. As the book progresses into 1812 and Russian military advances throughout the book become more prominent, the Prussian style takes over and Kant becomes the main philosophical figure. By the end of the book, Romanticism has set in across Europe and Russia and Tolstoy reflects this as well. The whole last segment of the book is almost entirely a description of interiorities and how they interact with each other on a personal level."
John Gerardi '13, international affairs, shared Varvoutis's enthusiasm for the book.
"Tolstoy is definitely overlooked in American society, and I think that is because we read so much about American authors in school," Gerardi said. "Tolstoy's work, however, can shed light on Russian culture in the United States and provide a venue for a closer examination of the Russian mindset."
Fedyashin will lead consortium students again this summer on a trip to Russia, concentrating on Moscow, with reading and discussion of War and Peace as the centerpiece. Based on the experience of a student who traveled to Moscow and St. Petersburg with Fedyashin's group last summer, where students retraced the steps of characters from Dostoevsky's Crime and Punishment, the trip should be intriguing.
"Traveling to Moscow and St. Petersburg over the summer was an incredible experience, and I feel so fortunate to have participated," said Sarah Adler '13, history and American studies. "I learned an immense amount about Russian history and culture—not to mention Dostoyevsky and his life—and I believe that the knowledge I gained in Russia has helped me better understand my own research on nineteenth-century American cultural perceptions of Russia. It also inspired me to look into learning Russian and possibly pursuing American-Russian comparative history if I attend grad school."
A Fitting Tribute
At the AU ceremony marking the bust's unveiling, Russian Federation Ambassador Sergey Kislyak said placing a bust of Tolstoy on the AU campus is a fitting tribute.
"Most probably one cannot give a better example of the might and depth of the cultural tradition that we have made as a nation better than paying tribute to one of the best writers in the world, Leo Tolstoy," Kislyak said. "Dostoevsky, Chekhov, Flaubert all considered Tolstoy to be a genius, a genius of thinking about the place of a man in the universe, and he was a philosopher, he was a man of culture, he was a man of integrity."
Pototsky echoed that sentiment, calling Tolstoy "the soul of Russia," a man whose dedication to kindness inspired figures such as Gandhi.
Said IRC Advisory Chair Lehrman: "Working together, the IRC's mission of enhancing the mutual understanding of Russians and Americans even inspired a great artist, Mr. Pototsky, to dedicate a beautiful piece of his work to this campus and to remind us of the beauty and friendship that exists between our nations. We are so grateful to Gregory and I will remember this morning and we will appreciate this sculpture for years to come."