International
Ambassador Michael Oren Discusses Israeli-U.S. Relations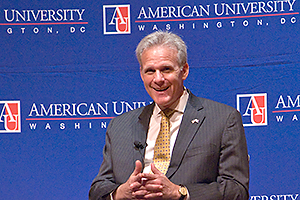 Israeli ambassador to the United States Michael Oren discussed areas of agreement and disagreement between the countries in an April 22 speech at American University, characterizing the relationship between the two nations as "special."
"We share a dream of an unbreakable American-Israeli friendship," he said at the talk and question and answer session cosponsored by the university's Center for Israel Studies. "We have the dream, and we the people of Israel and the people of the United States accept the responsibility for realizing that dream."
Born in New Jersey, Oren is a graduate of Princeton and Columbia. In the 1970s he immigrated to Israel, where he served as an officer in the Israel Defense Forces, in the paratroopers in the Lebanon War, as a liaison with the U.S. Sixth Fleet during the Gulf War, and as an IDF spokesman during the Second Lebanon War and 2009 Gaza operation. He has taught at Harvard, Yale, and Georgetown, studied the Koran, and written several best-selling books on the Middle East. Israeli Prime Minister Benjamin Netanyahu appointed him to his current post last year.
"My dream was that someday I would grow up and be Israel's ambassador to the United States," Oren told a large audience at the Katzen Arts Center's Abramson Family Recital Hall. "I embarked on several decades of study of the history and evolution of the U.S.-Israel relationship. I learned that that relationship is intensely deep. About a year ago, [upon] assuming the ambassadorship, I found that in fact I know relatively little. It fact the U.S.-Israel relationship was far vaster than anything I'd ever contemplated."
Israel is America's 20th-largest trading partner, making it more important economically to the United States than Russia or Saudi Arabia, Oren said. Seventy percent of all cell phone screens are made in Israel. The countries share intelligence, coordinate policy, and jointly develop weapons.
"This is a special relationship in every sense of the word," he said. "Does this mean we agree on everything? It does not. The true litmus of any alliance is not whether two parties agree or disagree, but whether they can overcome their disagreements in a constructive and friendly way."
Oren pointed to Jerusalem as generating some of the most contentious issues between the two countries.
"Israel regards Jerusalem not only as its undivided sovereign capital, but as the spiritual capital for now 3,000 years of the Jewish people worldwide," he said. "The current Israeli government understands that the Palestinians have a different position on Jerusalem, and we understand that when negotiations begin the Palestinians are going to bring that position to the negotiating table."
In March, Israel announced 1,600 new housing units for Jews in East Jerusalem while Vice President Biden was in the country meeting with Netanyahu. The move angered the United States and brought a fissure between the countries to light.
"The current Israeli government has agreed to refrain from building new settlements and has taken the unprecedented step of freezing all new construction in the settlements for a period of 10 months," said Oren, who took some pointed questions and endured a handful of protesters both inside and outside the auditorium. "Israel recognizes that this land is also regarded by another people as its homeland, and we realize that we have to share it. We are committed to that principle.
"In fact, the differences between us on settlements, on Jerusalem are vastly outweighed by agreements," he said.
Despite the challenges, Oren remains hopeful that peace will one day reign in the region.
"I have a vision in which Israel and Palestine live side by side in the way that several countries in Europe that were bitter enemies for hundreds of years do," he said. "[I envision] a post-conflict environment in which violence is completely unthinkable."
If that utopian scenario is to emerge AU professor Akbar Ahmed, who moderated the event, believes Oren will be a key contributor.
"To me he is the quintessential scholar, soldier, and diplomat," said Ahmed, the Ibn Khaldun Chair of Islamic Studies. "I have great hopes for his role in the future as a bridge builder."