Humanities
American Studies Halloween Screening: Vampires at AU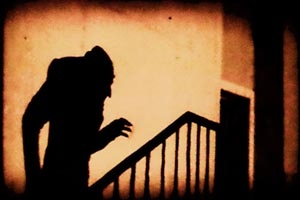 American Studies students and faculty enjoyed burritos and treats at this year's American Studies Halloween screening of the premiere of NBC's new show Dracula on October 26. Katharina Vester's Blood and Desire: Vampire Narratives and American Society fall course provided most of the attendees, though students from other American Studies classes joined
Before the 10 pm showing in a School of International Studies classroom, students chatted with each other and faculty members while enjoying veggie and chicken burritos from Chipotle. Cathy Schaeff, Associate Dean of Undergraduate Studies, struck up conversations with students by asking what their first experiences with vampires were. Junior Lindsay Sandoval was among several students who mentioned Buffy the Vampire Slayer as their introduction to vampires in American culture.
The real commentary on vampire tropes in popular culture began after the first ten minutes of the Dracula pilot. During the commercial break, students commented on the stereotyping of women through dress, the difference between Jonathan Rhys Meyers' Dracula and the many that came before him, and how the show is capitalizing on the vampire trend in television and film. The opportunity for students and faculty to connect these ideas allowed them to analyze this new Dracula in a special way.
"Being a spectator can be a solitary pursuit; I relish the chance to watch things in groups, and see how reactions differ. And being with a group that is predisposed to entertain whatever theory or reading you can come up with only sweetens the deal," said senior Sean Donovan.
Students in the Blood and Desire: Vampire Narratives and American Society course used what they have already learned during the semester to analyze Dracula's approach to the classic gothic story and shared their opinions with those sitting close to them.
The success of the show may be determined in the next episodes, but students who have spent the past two months analyzing culture and society issues such as how vampires are used as symbols reacted to the first episode with skepticism and deep analysis.
"The theories and readings we discussed in class definitely applied to whatever Jonathan Rhys Meyers and company think they're doing on NBC," Donovan said. "I feel like I have a new awareness of the Dracula myth and its transformations in popular culture."