On Campus
Being Indian, Being Israeli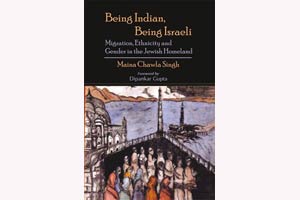 On November 17, at 8 p.m. in Butler Board Room, Clendenen Scholar in Residence Maina Singh will lead a discussion entitled, "Being Indian, Being Israeli: Migration, Culture, and Identity Among Indian Jews in Israel," based on her new book. The talk is hosted by the Center for Israel Studies. Singh will be joined by Sally Oren, Israeli immigrant and wife of Michael Oren, Israeli Ambassador to the United States.  
Being Indian, Being Israeli: Migration, Ethnicity, and Gender in the Jewish Homeland is an ethnographic study of Indian Jewish communities in Israel, based on over 150 interviews with members of these communities. In it, Singh highlights shared histories of three specific groups— the Bene Israelis, the Baghdadis, and the Kerala Jews.  
Singh is a professor at the University of Delhi. From 2005– 2008, she lectured and researched at universities across Israel. Currently, Singh is Clendenen Scholar-in-Residence at AU. This residency is endowed by the Department of History's Patrick Clendenen Fund for Women's and Gender History.  
The Center for Israel Studies is dedicated to exploring Israel's cultural and intellectual contributions to the global community.
This event is cosponsored by the AU Jewish Studies Program, AU School of International Service, AU Students for Israel (AUSFI), AU South Asian Students Association, and the American Jewish Committee.