About the Katzen Arts Center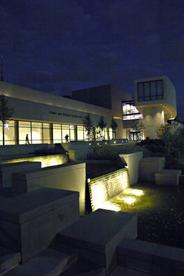 The Katzen Arts Center brings all the visual and performing arts programs at AU into one 130,000 square foot space — see Photo Tour. Designed to foster interdisciplinary collaboration in the arts, the new center provides state-of-the-art instructional, exhibition, and performance space for all the arts disciplines.
The Center features the extraordinary 30,000 square foot AU Museum, directed by Jack Rasmussen, with a variety of gallery spaces for exhibition of exciting contemporary art from the nation's capital region and the world, along with AU's own Watkins Collection and the collection of Cyrus and Myrtle Katzen.
The Katzen Arts Center stands as a clear statement to the community that, at the heart of the city, there exists a place where the arts are honored as the an essential part of higher education. That place is American University.
Academics
The Art Department remains committed to helping students gain access in an authentic way to the realm of aesthetic expression, intuitive thought, the language of visual form and symbolic expression, and the nature of creative discovery, as well as to an understanding of how art and artists have functioned historically. In keeping with this commitment, programs and courses are designed to enable students to learn to ask important questions rather than to present synthetic solutions. Programs include
Performing Arts fosters excellence in scholarship, artistry, and experiential inquiry within and between the disciplines of arts management, dance, music, theatre, and music theatre. The faculty includes composers, playwrights, choreographers, and directors. The Visiting Artists and Artists-in-Residence programs provide students with an opportunity to work with experts in each of the disciplines. Programs include:
Rental Information
For information about renting Katzen facilities, please see our Facilities Rentals page.