Katzen and AU Museum Rentals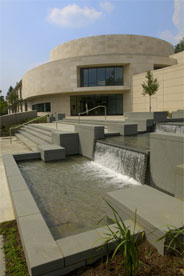 The Katzen Art Center's graceful facilities offer a unique Washington locale for conventions, training, weddings, film, and live performance. Beyond a gorgeous setting, the Katzen offers:

Multiple Event Spaces, from performance and meeting spaces to computerized classrooms—take a Photo Tour.

Convenient location with abundant downstairs parking.

Flexible capabilities, including state-of-the-art AV technology and online ticketing, plus our nearby sister facility, the Greenberg Theatre.
All Katzen facilities are available for rentals to the public. For more details, please browse the links above, including our Services, Policies, & Forms. See Visiting for directions and parking information.
To confer immediately with our staff or to arrange a visit or tour, please contact:
Lisa Ager,
Katzen Facilities Manager
202-885-3884
AUarts@american.edu

Please see also: