Arts
Durham's Winding Road to Arts Leadership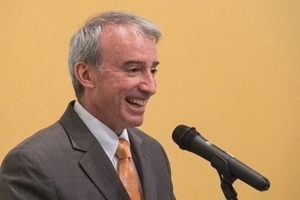 It's been a long journey for Mario Garcia Durham, now president and CEO of the Association of Performing Arts Presenters (APAP). Speaking at a November colloquium in the American University Museum, sponsored by AU's Arts Management Program, Durham addressed challenges facing performing arts institutions and lessons he learned along the way to becoming the head of APAP.
Durham began his career in arts management volunteering for the Houston International Festival. His first job in the field came at Yerba Buena Center for the Arts in San Francisco. After holding numerous positions there in the 1990s, including artistic director, in 2000 he founded Yerba Buena Arts & Events, the organization that produces the annual Yerba Buena Gardens Festival. The 12-year-old outdoor event presents more than 100 free performances by the San Francisco Opera, the San Francisco Ballet, and others for an audience of 100,000 attendees.
Between his time at Yerba Buena and APAP, the Texas native and son of a legendary Texas Ranger served at the National Endowment for the Arts (NEA) as director of Artist Communities and Presenting. While at NEA, Durham helped create programs such as An Evening of Poetry hosted by the President and Michelle Obama and initiated the Live from Your Neighborhood study, a groundbreaking examination of the impact of outdoor arts festivals in the United States.
A Passion for Performing Arts
Durham is passionate about a broad range of performing arts, especially classical music, dance, Broadway shows, opera, and evolving forms of performance and media arts. In October 2011, he became the fifth president and CEO of APAP since its founding in 1957. Durham had previously served on the APAP board of directors and on the executive committee.
At the colloquium, Durham recalled his childhood and his time dabbling in the violin and acting. It was at the studio of Patsy Swayze, the well-known arts teacher and mother of Patrick Swayze, that he learned to respect the arts. "I learned a lot from her," he said, "about respect for presenting work to audiences, to respect being on a stage and having the privilege of showing what you do to others."
Durham, a graduate of the University of Houston, traced his career history from being a banker, through attending law school, to his decision to go into arts management. "At first I didn't want the job, but I started to look at it and realized that I loved the field very much," he said. "If you are like me, the reason you want to be leaders is because you want a place at the table and because you feel like you have something to offer. It's a service."
Some other points Durham hit on during his presentation include:
• High versus low arts—A great fault of institutions is not tapping into how art is a part of people's everyday lives. Distinctions have been created between certain art forms, he said, and he hopes the gulf between them narrows. "Are we just about the 'high arts?'" he asked. "There is no connection out there that country music or rock and roll is art."
• Creative place-making—Artists are the source; they are the ones who create. Durham worries that small organizations and artists not tied to buildings or larger organizations are withering on the vine.
• Actual diversity—Durham mused that "diversity" is not just playing the standard style of the art of a certain ethnic community and hoping audiences will come to the theatre. "It is establishing a relationship and building a commitment to the communities," he said. He worries that the arts are still a predominately white field, and the discussion about this subject has been dominated for years by older generations. He wants to shift the discussion to allow the younger generations' voices to be heard.
• What about graying current patrons?—While the discussion over the past years has been about reaching out to young people, Durham encourages arts leaders not to forget about the baby-boomers. "Use them," he said. "Ask them to volunteer. They are the next big wave that can help your organization."
After a question-and-answer session with students, the attendees had valuable one-on-one conversations with Durham during a reception.
For more information on Mario Garcia Durham and the Association of Performing Arts Presenters, visit the organization's website.