Humanities
Exploring the Story Behind the Story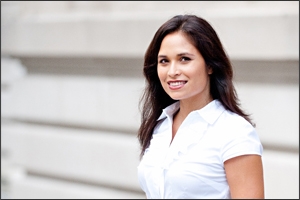 AU history professor Theresa Runstedtler wants to unearth the past. "I was always particularly interested in learning about the history that unsettled things I had taken for granted," says Runstedtler. "I wanted to know the real stories behind the popular stories we're told."

A scholar of African American history, her research focuses on black popular culture and black internationalism—two subjects that are not often paired together. "Usually when people think of black internationalism, they think about politicians, diplomats, or activists—they don't usually think of athletes, singers, or actors," says Runstedtler. "Through my research, I've discovered that in fact some of the most mobile people in the late 19th century and early 20th century were cultural workers like performers or athletes." 
Runstedtler explores the intersection of these two fields in her book, Jack Johnson, Rebel Sojourner: Boxing in the Shadow of the Global Color Line, published by the University of California Press. A winner of the 2013 Phillis Wheatley Book Award from the Northeast Black Studies Association, the book tells the story of Jack Johnson, the first ever black world heavy-weight champion. Though Johnson was an African American athlete, he spent much of his career outside of the United States, competing in locales throughout Australia, Europe, the Caribbean, and Latin America. 
Even though the book is a biography of Johnson, Runstedtler wrote it to tell a much bigger story. "During his time, he became a sort of lightning rod for discussions about race and the interconnectedness of people of color worldwide," she says. "The book is really about what Johnson's challenges tell us about how racial inequality worked internationally in the early 20th century."  
Johnson faced a majority of racial challenges outside of the ring. "He was a very bombastic and ostentatious man. He liked fast cars, and also liked to date and marry white women," says Runstedtler. "In the early 20th century, all of those things rubbed people the wrong way, and it wasn't just in the United States that he became a problem. He sparked larger conversations about the management of colonial peoples and the necessity of drawing color lines in different spaces." 
Runstedtler hopes these larger conversations will carry into popular culture today. "I tried to write a book that would be not just for an academic audience, but also for a popular audience," she says. "I wanted to use Jack Johnson to hook people in to open up a deeper conversation about the global dimensions of racism and imperialism."  
Runstedtler aims to spark larger conversations not only through her writing, but in her teaching as well. By focusing on issues of race, gender, class, and sexuality, she inspires students to rethink their assumptions. "I recently taught a book called Race Rebels by Robin Kelley," she says. "At the beginning of the book, Kelley talks about his experience working at McDonald's and how he and other employees would manipulate things to make their time working there more bearable. After our discussion, a student came to me and said, 'I will never look at fast food workers the same way again. This really made me think that I have to be open-minded and give them the respect that they deserve.' That kind of realization is what I aim for in the classroom." 
In the future, Runstedtler plans to continue publishing and connecting more deeply to both the D.C. and AU community. More than anything, though, she intends to continue exploring the story behind the story and encouraging students to look at things from multiple perspectives. "I try to expose the underbelly of history so we can have a meaningful conversation and understand that people's grievances and inequalities are rooted in a deep history that is very real," she says. "I want to take those popular narratives we have about U.S. history, turn them on their head, and force people look at them differently."