Alumni
AU Prepares To Welcome Strong Class of 2017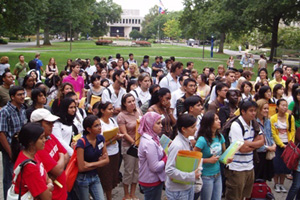 "For the first time, we will have more students combined from California and Texas than we do from Virginia and Maryland," says Director of Admissions Greg Grauman, SOC/BA '99 when describing the Class of 2017. "We continue to see the shift in our enrolled students from the northeast/mid-Atlantic to the south and west. Overall, nearly 30% of our class is coming from the south and west."

New admissions staffing positions were added to support enrollment in both California and Florida this year. This allowed admissions personnel to spend more time recruiting students in these regions. "We have seen a year-to-date increase in students from the south and west. Specifically, California (10%), Texas (50%), and Florida (38%)," said Grauman.

The newly enrolled freshmen were selected from an applicant pool of more than 17,000 academically accomplished students. The class of 2017 earned an average GPA of 3.74 and had an average SAT score of 1256 (on a 1600 scale).

These first-year students will come to Washington from all corners of the country and from around the world. They'll arrive this August from 46 states (including D.C.) and from 54 different countries. Additionally, this class will include 50 U.S. Global Nomad freshmen (U.S. citizens living abroad) who represent 40 countries of residence.

Delighted with the enrollment results for the Class of 2017, AU's admissions team will soon begin seeking new students for the class of 2018. Over the coming year, staff members will participate in hundreds of recruitment events, such as prospective student interviews, high school visits, college fairs, and regional information sessions.

Over 400 alumni assist with the admissions process as alumni admissions volunteers. The engagement of AU alumni in a variety of admissions activities has greatly assisted the Office of Admissions in recruiting and enrolling top students. Alumni volunteers support admissions staff at interviews, college fairs (national and local), and admitted student receptions. "The alumni who participate in these events answer questions about AU programs and provide invaluable insight into their unique experiences at AU. Alumni admissions volunteers played a significant role in helping to recruit and enroll the class of 2017," said Grauman.

Find out how you can become an Alumni Admissions volunteer.