Alumni
Alum's Parody Song Goes Viral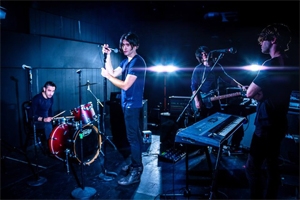 Freddy Scott, BS audio technology '08, has always been a big fan of the band Nine Inch Nails and calls the band's lead singer, Trent Reznor, one of the inspirations for much of his composing work. A few weeks ago, Scott incorporated Reznor into what was intended as a project he created just for fun, but it ended up being picked up by media and online outlets all over the world.
His song parody, "This Is A Trent Reznor Song," was created on a whim when listening to the band's new album in the car on the way back from the grocery store. "On the way home, I started singing part of the parody I wrote in the car," says Scott. "I recorded it in two hours when I got home, and later that afternoon, after being picked up by outlets like Entertainment Weekly, Boing Boing, SPIN, and the Huffington Post, the song had 400,000 plays. I wasn't planning to make something that went viral. Now my life's changing."
Since the song's release, Scott has been getting requests for composing work and other collaborations. "I write a lot of comedy, and I've been contacted by a few comedians to work with them," he says.
Before this explosion of recognition, Scott had been working as a composer in Los Angeles. He wrote the music for a cartoon pilot called "Grimm Fairy Tales Animated," which will be released at the end of March on iTunes and Xbox Live. He worked with David Schwartz, who scored themes for "Arrested Development," on episodes of the show's last season, which aired exclusively on Netflix. "That was the universe telling me that the composing thing was a good idea," he says.
His love for music began at a young age. Scott has been playing music since he was four years old. He started taking saxophone lessons in elementary school, then got into rock, and picked up guitar at age 11. He played in various bands before college.
While attending Old Dominion University in Virginia, he got a job working at a satellite radio company called WorldSpace in the D.C. area. As a metro area native—he grew up in Alexandria, Virginia—it made sense for him to transfer to AU, particularly because of the Audio Technology Program.
Scott's experience in the program helped shape what he's doing today. "I wanted to produce and write music for a living," he says. "I really wanted to angle my degree toward music—recording, mixing, and engineering. The program was new at the time, so it wasn't as advanced as it is now, but students could cater the major to what we wanted to do." 
He praises his professors in the program for supporting his goals. "I couldn't say nicer things about Matt Boerum and what a great teacher he is. Russell Williams was such a mentor for me. And Paul Oehlers was instrumental in me feeling like working in this industry was possible," Scott says.
In the future, Scott wants to expand beyond composing. "My dream is not so much to be a composer but a creative entity in general," he says. "Right now, I'm pitching a 13-episode show that I co-wrote with AU grad Russ Hull, SOC/BA '08, called 'Metal Mouth' that we originally shot in the basement of McKinley [on the AU campus]. And I'm hoping to continue marrying my two loves of music and comedy to make great projects as my career progresses. "