Arts
Professor's Artwork Explores Choice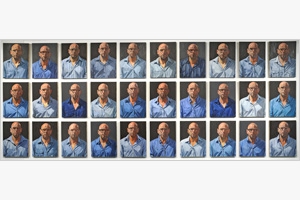 Think about how you portray yourself online—on all those profiles and platforms and social media sites. You might post your occupation, your hometown, your hobbies and favorite foods, a link to your blog. Maybe you feature a favorite quote. Sometimes you pick a unique username. And almost always you select a photo of yourself that reflects who you are as you want to be seen. 
The process by which we create our fantasy self for public presentation is complex and involves a series of choices, some of which we may not be able to explain—but all of which reflect our desires, wishes, hopes, and realities. We put it out there in cyberspace, this imagined self, and we invite others to connect and engage with this reflection of our personal fantasy. It is this interaction between the self and the imagination that inspires artist and art professor Tim Doud. 
For two series of portraits, Doud visited online dating sites to find his models. He sees the dynamic between artist and model as collaborative. "I pay attention to the choices people make," says Doud. "The model is a collaborator [in that] she or he makes decisions about their public self for presentation."
Doud's models choose their clothes, their makeup, and, to some extent, the setting and staging. The "meaning" of the portrait, he says, lies in the interaction between the model's choices of "self material" and his or her imagined life and the artist's ability to bring this material into focus. 
His series Angie (Mac) features a makeup artist. Angie made herself up, literally and figuratively; the craft of the portraiture, says Doud, is to make the model's choices visible. So, for example, in the painting Polly Vinyl, Angie wears a white fur ski cap with a puffy blue winter coat and bright white eye shadow, while in Wanderlust, she chooses braided pigtails, bright pink lips, and electric blue makeup. 
Doud's work draws attention to the theatricality of everyday life. The model in his Rodney series chooses clothing that is elaborate and fun. In See, Rodney poses in black and leather with reflective glasses, fingerless gloves, and an elaborate headpiece. In Buzz, he wears a black hat with a bow tie and a green and black flamenco shirt with puffy sleeves. In Designer, Rodney reclines in a wooden chair, now wearing a pinstriped suit with green striped shirt and red tie and glasses. 
It's about more than dressing up, says Doud. Each different outfit is a part of Rodney's identity. The idea is to consider the choices we make and how they "flesh us out" into public identity. 
In the multiframe series titled Blue, Doud created 30 self-portraits that are meant to be viewed as one unified piece. Each portrait depicts Doud from the chest up and wearing a different blue, button-up shirt. "I made the choices of what shirts to wear, I chose my glasses," says Doud. "I problematize these by arranging them in systems across a structure of color and hue choices. Each portrait, then, examines how commodity makes personality present." 
In each series, including Blue, the facial expression of the model remains the same. That is because it isn't about the psychology of the face, says Doud. "It is about the psychology of the choice and the expectations brought to those choices by viewers." The artist directs focus away from what a portrait means to the means by which it signifies—what our clothing signifies, the brands we choose, which bring up larger questions of consumerism and self-representation. 
Doud currently is working on part two of his Blue series, which more directly questions the Western-centric fashion industry. 
Doud's work has been exhibited in San Francisco, Chicago, New York, and Washington, D.C., as well as in Switzerland, Germany, and Italy. A finalist in the 2013 Smithsonian National Portrait Gallery's Outwin Boochever Portrait Competition, his portrait Room and Board from the Rodney series was featured on the cover of the catalog.