Questions?
Literature
202-885-2971
Fax: 202-885-2938
lit@american.edu
Battelle Tompkins, Room 237


Rangel-Mullin, Rebecca
Sr. Administrative Assistant

Mailing Address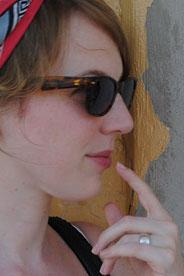 About
The Messenger is the bi-annual alumni newsletter for American University's MFA Program in Creative Writing. Features include updates on alumni, faculty, and events taking place throughout the semester, such as our Visiting Writers Series. Often it will feature an interview with a visiting writer or short works by current students.
Contact
Please send updates or any questions regarding The Messenger to:
Phone: 202-885-2990
Fax: 202-885-2938

MFA Program in Creative Writing
Department of Literature
American University
4400 Massachusetts Avenue, NW
Washington, DC 20016
Editors:
Sara Blaisdell
Carolyn White

Faculty Advisor:
Rachel Louise Snyder 

Announcements

2011 Contest & Double Issue
Folio is publishing a double issue in Spring 2011 in celebration of our MFA program's 30th anniversary. Alumni authors and artists are strongly encouraged to submit and spread the word to the members of their communities.

Download 2011 Poetry Contest submission guidelines or see them at Folio, plus non-contest guidelines for poetry and art submissions—deadline for all submissions is February 14, 2011.

Folio/Big Lucks Reading, February 2
More information to come on a Folio/Big Lucks Reading February 2, 2011 during AWP in D.C. Big Lucks is a wonderful quickly growing publication founded and run by an AU MFA student/AU professor.