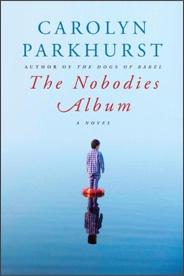 Carolyn Parkhurst's third novel, The Nobodies Album, was published in June 2010 by Doubleday. Her first children's book, Cooking with Henry and Elliebelly, was published in November 2010 by Feiwel & Friends.
Sandra Beasley's memoir, Don't Kill the Birthday Girl, was published by Crown in 2011—see also Creative Writing Alumna Transitions.

Maxine Clair's most recent book is October Suite, a novel (Random House, 2001).
J.L. Conrad is the author of A Cartography of Birds (Louisiana State University Press, 2002).
Paulette Beete (MFA '04) has published two chapbooks of poetry: Blues for a Pretty Girl (2005, Finishing Line Press) and Voice Lessons (2011, Plan B Press).

Richard Cytowic's Wednesday is Indigo Blue: Discovering the Brain of Synesthesia was published by MIT Press in 2009.
Derrick Weston Brown's collection of poetry, Wisdom Teeth, (PM Press) was released in May, 2011.
Glen Finland's first book, a memoir called Next Stop, is forthcoming from Amy Einhorn Books/Putnam in 2012.
Donna Hemans's first novel River Woman was published in 2002 by Washington Square Press.
Ryan Bloom's English translation of Nobel-laureate Albert Camus' Notebooks 1951-1959 was published in May 2008 by Rowman and Littlefield/Ivan R Dee to much critical and academic acclaim. In May 2009, Notebooks was selected as one of five nominees for the French-American and Florence Gould Foundation's superiority in translation award.

Matt Getty's You Will Behave: A Novella with Added Goodies came out in 2006 from Suckerpunch Press.
Jorie Green Mark wrote the book Bride in Overdrive: A Journey into Wedding Insantiy and Back (St. Martins Griffin, 2004).
Harvey Grossinger's collection of short stories, The Quarry (University of Georgia Press, 1997) won the Flannery O'Connor Award for Short Fiction.
Lisa Norris's most recent work is the story collection Women Who Sleep With Animals, which won the Stephen F. Austin University Press Prize for fiction and will be published in 2011.
W.T. (Todd) Pfefferle (MFA '84) had his third book, Poets on Place, published by Utah State University Press in 2005.
Weezie Kerr Mackey (MFA '90) is the author of a young adult novel, Throwing Like a Girl (Marshall Cavendish) nominated by the Texas Institute of Letters as the Best Young Adult Book, 2007.