Humanities
Renowned Scholar Joins Israel Studies Program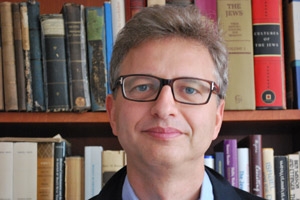 Michael Brenner, an internationally respected scholar who started Germany's first Jewish history and culture program, is joining AU as the Seymour and Lillian Abensohn Endowed Chair in Israel Studies. 
The author of six books, coauthor of numerous journal articles, and editor of a major Jewish studies book series, Brenner is taking an extended leave of absence from the University of Munich to assume the Abensohn Chair and advance AU's Israel Studies program. 
"Dr. Brenner is a world-renowned historian who brings an exceptional record of scholarship," says Peter Starr, dean of AU's College of Arts and Sciences. "We are indebted to Lillian and Seymour Abensohn for having the vision to create a permanent chair in this field that American University helped to create." 
Brenner comes to AU with an impressive academic background. After studying in Heidelberg and Jerusalem, he received his PhD in Jewish history from Columbia University. He has taught at Indiana University, Brandeis, Stanford, Johns Hopkins, University of California–Berkeley, the University of Haifa, the Central European University of Budapest, and l'École des hautes études in Paris. 
He was also the Ina Levine Invitational Scholar Fellow at the United States Holocaust Memorial Museum, where he researched modern German-Jewish history. His current research "deals with the tension between the original Zionist vision to bring normalcy to the Jewish people by establishing a state of their own and the challenges Israel faces today to be regarded as a 'normal state,'" he says. 
His goals at AU include bringing in visiting scholars from Israel to demonstrate the spectrum of opinions and research there. Two conferences are already planned. He also hopes to take students on regular trips to Israel to experience the country on a deeper level. 
Brenner's lifetime fascination with Jewish studies starts with a rich personal history. 
"I grew up in a small town in Germany as the only Jewish kid of my age," he says. "My parents were both Holocaust survivors who actually had planned to go to the United States after the war but never did so. I learned from early on what it meant to be an outsider and was curious to further explore the history and fate of Jews in different parts of the world. After beginning to study Jewish history in Germany, I continued in Jerusalem at the Hebrew University and then did my graduate work at Columbia University in New York. Having lived and studied in many diverse places, I feel that this history is so rich and diverse that you need a few lifetimes to fully understand it, and I am continually fascinated by it."
Brenner actually follows his wife, Michelle Engert, in teaching at AU. While working as assistant federal public defender in Baltimore, she taught a class in AU's American Studies Program. After taking a break from practicing law to teach in the Department of American Studies at Ludwig-Maximilians-Universität in Munich, she is returning to Washington to work with the Office of Defender Services and will teach as an adjunct on AU's faculty.
"AU is a top-notch university, it is placed in the capital of the United States, and it was the first one to establish an Israel studies program," Brenner says of his decision to join American University. "I like the idea of working with American students and thinking and teaching about Israel through the prism of the United States."