Literature
College Alumna Appointed NEA Director of Literature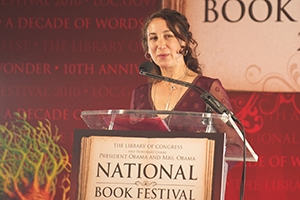 Amy Stolls has been appointed the new director of literature at the National Endowment of the Arts (NEA). Stolls, who received an MFA in creative writing from AU in 2000, also served as an adjunct literature professor at the College, teaching classes on contemporary literature. 
"I was a journalist in Seattle when the faculty at American's MFA Program in Creative Writing took a chance on me and changed the course of my career," said Stolls. "In many ways, I am who I am today because of the support and inspiration and continuing friendship of many creative writers and literature professors and colleagues I met at AU. My heart expands when I think back to the days of sitting in workshops, chatting with colleagues, and (later) watching my students get excited about good literature. I am tremendously grateful to American for enriching my life." 
Professor of literature Richard McCann was Stolls' thesis advisor at AU. "This is wonderful news, and so well deserved," he said. "Amy has published two critically well-acclaimed novels, and she's always had a deep interest in fiction that goes beyond her own work. We're grateful that she has come back to the College many times over the years to talk to our MFA students, and to share her deep understanding of writing." 
In her new appointment, Stolls will oversee the NEA's grant awards in literature.  
"To be part of the literary community—that passionate, wonderful lot of writers, teachers, publishers, editors, presenters, librarians, translators, and more who work tirelessly on behalf of books and reading—is an honor. To be in a position to help this community is a gift," said Stolls. "I have always believed deeply in the NEA's mission; I look forward to carrying out that mission as best I can in my new role." 
Stolls first joined the NEA's literature office as an intern in 1998 while she was in the creative writing program at AU. As a literature specialist and later as the literature program officer at the NEA, she has been an integral part of the organization's grantmaking process. She has spoken on the topic of literature at conferences and festivals around the country and abroad, including the Moscow Book Festival. She spearheaded the NEA's involvement in the National Book Festival and advised on the NEA's Big Read program.

Stolls is the author of the young adult novel Palms to the Ground (Farrar, Straus & Giroux), winner of the 2005 Parents' Choice Gold Award, and the novel The Ninth Wife (HarperCollins, 2011), as well as more than a dozen personal and literature-related essays. She currently writes a blog about the Old Post Office of the United States, which has been home to the NEA for 30 years.