On Campus
Visiting Writers Series Celebrates 30th Anniversary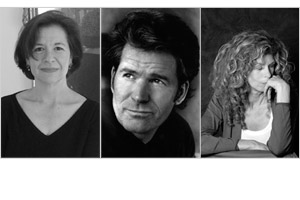 This year will mark the 30th anniversary of the Visiting Writers Series sponsored by the Department of Literature. This year's series features a number of accomplished and emerging authors from AU and beyond.
Joan Wickersham reads on September 29 at 8 p.m. in the Butler Board Room. Wickersham, who has been published in the Best American Short Stories anthology, as well as the Los Angeles Times and Glamour, will be reading from her memoir, The Suicide Index: Putting My Father's Death in Order. The book was a finalist for the 2008 National Book Award in Nonfiction.
According to series director Richard McCann, this special anniversary event will celebrate not just the series but also the creative writing program as a whole.
"The Visiting Writers Series serves the students in the MFA program in creative writing and the students of the Department of Literature by bringing to campus each year about eight nationally and internationally-recognized writers who give readings and workshops," says McCann. "These writers' works become the works we share as a community."
The rest of the series is packed with events featuring established authors, including fiction readings with Andre Dubus III and Amy Bloom and poetry readings with Marie Howe and Jericho Brown.
On January 19, there will be a poetry and prose faculty benefit reading with AU creative writing professors Kyle Dargan, Danielle Evans, Stephanie Grant, David Keplinger, Richard McCann, and Rachel Louise Snyder. Proceeds from the reading benefit Food and Friends—a local nonprofit that provides meals to people with HIV/AIDS and other life-threatening diseases. The suggested donation at the door is $5.
Additionally, there will be a graduating MFA student reading at 3 p.m. on May 8 in the Kay Spiritual Life Center. This event will be poetry and prose reading from creative writing 2010-2011 graduates.
The series continues through May. For more information, please visit the Visiting Writer Series Web page.