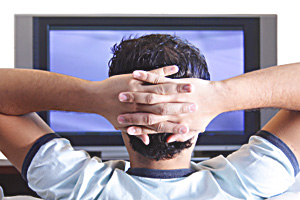 In this summer's sweltering heat, it's hard to muster the energy to move from an air-conditioned house or apartment, through the miserable humidity — even to a nicely air-conditioned movie theatre.
These movie rental picks come from AU staff, faculty, and students and should add a little spice to your at-home queue. It's worth the walk to the mailbox for these films.
And whether you are headed to a beach vacation or AU's "beach" over your lunch break, these books by AU's Department of Literature profs will capture your imagination and help you while away those summer hours.

AU Top Ten
In a (slightly) unscientific survey, AU faculty, staff, and students submitted their favorite movies and books. Where do your favorites rank?
| | |
| --- | --- |
|  TOP 10 RENTALS |  TOP 10 READS |
| 1. Casablanca (1942) |  1. The Great Gatsby, F. Scott Fitzgerald |
| 2. The Princess Bride (1987) | 2. Catcher in the Rye, J. D. Salinger |
| 3. Goodfellas (1990) | 3. The Hobbit, J. R. R. Tolkien |
| 4. Scott Pilgrim vs. the World (2010) | 4. The Wonderful Wizard of Oz, L. Frank Baum |
| 5. Pulp Fiction (1994) | 5. Harry Potter series, J. K. Rowling |
| 6. The Breakfast Club (1985) | 6. The Picture of Dorian Gray, Oscar Wilde |
| 7. Fight Club (1999) | 7. The Life of Pi, Yann Martel |
| 8. To Catch a Thief (1955) | 8. Siddhartha, Herman Hesse |
| 9. The Visitor (2007) | 9. The Girl with the Dragon Tattoo, Stieg Larsson |
| 10. Inception (2010) | 10. People of Darkness, Tony Hillerman |
Five Great Films
Reviewed by Jordan-Marie Smith, SOC '15

Blue Velvet (1986). Many films produced after Blue Velvet have tried to imitate the subject of startling, seemingly humdrum lives of small-town suburbanites. David Lynch's film introduced American audiences to the simple concept: everything is not as it seems. Twin Peaks' Kyle MacLachlan and Jurassic Park's Laura Dern take on the role of innocent and naive youth seeking to solve the mystery of Isabella Rossellini's missing husband and child. The archetypical mad-man Dennis Hopper (Apocalypse Now) plays the Pabst Blue Ribbon swilling Frank Booth, the kidnapper of Rossellini's loved-ones and sadist to Rossellini. The most beautiful parts of the film are the shots of Dern as a callow teenager and MacLachlan's transition from clean-cut protagonist to confused and dark persona. For American film, Blue Velvet set the stage for intriguing and dark cinema.

Easy A (2010). Last year seemed to churn out lackluster teenage "dramedies" and romantic comedies in the theatres, but Easy A found a way to steer away from some clichés of the teen comedy experience. Despite the mainstream plot, director Will Gluck adds scenes where Olive mocks pop-culture themes. Emma Stone, the new "it girl" for teen film, plays Olive, a typical high school girl experiencing the lows of high school life. After Olive's homosexual friend convinces her to lie about having a one-night-stand, troves of guys from the lower echelon of the high school hierarchy bribe Olive for her make-believe services. During the film, Olive becomes judged for her false exploits that everyone perceives as being true. A zealously religious group, headed by Amanda Bynes's Marianne, terrorizes Olive in a way comparable to Nathaniel Hawthorne's The Scarlet Letter. The film still lingers on borderline cliché but is well suited for a summer rental.

Manhattan Murder Mystery (1993). There will always be a longing for New York after watching any Woody Allen film. The prize with this one is Allen and Diane Keaton's reprisal as paramours. Woody Allen plays his archetypical nebbish hypochondriac as the quiet and anxious Larry Lipton. Keaton plays his adventuress wife, Carol, who seeks a switch from the mundane existence that plagues the couple's relationship. She finds her outlet, and the plot to the film, in the investigation of the suspicious murder of the neighbor's wife. As the film progresses, Keaton finds a comrade in Alan Alda's character, Ted, who perpetuates the question of whether or not Carol and Larry are still right for one another. Their roles as lovers in a coasting marriage, imbued by the mysterious murder, create both unwanted and needed excitement in their marriage. Allen has always had a penchant for murder mystery, (see Shadows and Fog), but it is refreshing to see Keaton and Allen together again in a comedy.

This American Life (2007). For any National Public Radio fan, or anyone who has never heard of This American Life, seeing the images of the radio stories of everyday Americans is a wonderful find. For two seasons on Showtime, NPR veteran Ira Glass produced and hosted the television component of his fifteen-year-old radio show, This American Life. The format of the show mirrors that of the radio series. Glass introduces a universal problem, such as letting go, and provides an American story including real people in a documentary setting. As a Peabody Award–winning look into the complex lives of seemingly simple situations, This American Life provides an all-inclusive and universal outlook on sympathy, love, and life through documentary.

South Park: The Cult of Cartman: Revelations (2008). From Tony-winners Trey Parker and Matt Stone, South Park is the television genius that crudely, rudely, and shrewdly comments on America's faults and (as South Park sees it) rare glories. At the heart of the more than a decade's old series is the unforgettable Eric Cartman. As the main representative for comic relief for the show's portrayal of all things bad in America, Parker and Stone created an entire collection of Cartman's best episodes for those who can't get enough of the unabashedly prejudiced, greedy, and diabolic character. If you are not a South Park fan, you will still find undeniable comedy in a fourth grader who is so unabashed he fakes having a mental disorder to earn money.


Five Great Reads

Reviewed by Emily Schmidt, Marketing and Communications Manager, CAS
Mother of Sorrows, Richard McCann
Author of The Hours, Michael Cunningham, said that this book is "almost unbearably beautiful," and I couldn't agree more. Mother of Sorrows consists of ten interwoven stories that read like a memoir. Stories focus on key moments in the narrator's life, starting in the 1950s with his family living in the D.C. suburbs and then moving forward in time, first through the teenage years, but ultimately 30 years later when the narrator is the only living family member left. McCann's prose leaves a lasting impression through the intricacy of descriptive details. This book certainly deserves all the awards it has received.

The Passion of Alice, Stephanie Grant
A true page turner. Grant uses vivid prose to describe Alice Forrester, a twenty-five-year old anorexia victim self-admitted into a rehabilitation center. The book delves into Alice's fight to feel accepted by others and shows her quest to discover a desire to live.

Grief, Andrew Holleran
There is a sense of hopefulness in this eloquent novel, even though its subject is grief. Focusing on a person who relocates to D.C. after his mother passes away, the unnamed narrator wants a fresh start for his life. The book explores how people cope with grief and what they do to survive.

Reviewed by Kaitie O'Hare, SOC '12

Before You Suffocate Your Own Fool Self, Danielle Evans
This collection of eight short stories will leave you wanting more. "I hope Danielle Evans is a very nice person because that might be her only defense against other writers' seething envy," writes Ron Charles of the Washington Post. Evans's collection is a masterpiece down to the sentence level. Her surprising stories detail the unfortunate circumstances that her young, vivid, African American characters stumble upon. From losing one's virginity, to losing loved ones, Evans's stories are sure to engage you.

Logorrhea Dementia: A Self-Diagnosis, Kyle Dargan
Kyle Dargan does it all in his third collection of poetry, cleverly titled Logorrhea Dementia: A Self-Diagnosis. Inspired by the 2008 presidential election with candidates "talking themselves crazy," according to Dargan, the collection includes poems of many voices, many topics, and many beautiful lines. From its pop culture references, to social and political observations, Logorrhea Dementia is as accessible as it is lovely.