Literature
Logorrhea Dementia, a Cacophony of Voices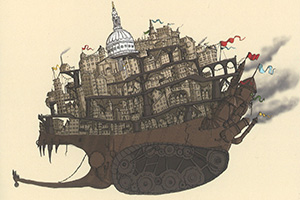 The 2008 presidential election generated a surge of new ideas, concepts, and even art by Americans inspired by candidates racing to the Oval Office three years ago. Alongside innovative YouTube debate videos and Shepard Fairey's iconic "Hope" poster, the phrase that sparked the idea for Professor Kyle Dargan's new book was born—Logorrhea Dementia.
Dargan first picked up the phrase after watching New York Times columnist David Brooks appear on "The Chris Matthews Show." Brooks used it to describe how Democratic candidates Barack Obama and Hillary Clinton would "talk themselves crazy" in an attempt to differentiate their nearly identical qualifications and agendas from one another.
"The idea of trying to talk one's self into a different perspective or a different understanding that may not be what you're normally or popularly considered to be, I took that as a challenge to myself to write one's self crazy, but in a good way," Dargan said.
The book, Logorrhea Dementia: A Self-Diagnosis is structured as what Dargan considers a "long and odd conversation across different groups of people, filtered through one speaker, whose voice is also changing a lot." This "conversation" is broken down into three sections, which Dargan titles breaths. "Even with endless speech, there has to be a moment—the body is not a machine—where you pause and you take a breath, and you start speaking again," he says. "You have this long push of language, and then there's a breath. The book takes a moment to breathe in, and then pushes in another direction."
The collection focuses on a variety of topics and issues ranging from skewed statistics, and observations on a metro, to commentary on media and America. Dargan accentuates the subjects and ideas in his poems with epigrams and quotes, which he says enhance the feeling of a cacophony of voices and speakers associated with the concept of logorrhea dementia.
Many of the epigrams Dargan incorporates in his collection make reference to pop culture, including one from Marvin Gaye and another from Ricky Bobby of the movie Talladega Nights: The Ballad of Ricky Bobby. Dargan says he's noticed that people are surprised by his repeated references to what is considered low art—movies, television, etc.—and wants readers to consider the influence it has on America. "What I would like people to think about is the ways in which popular culture actually shapes them. It's not this background noise that's playing that you live your life over... It actually shapes your ideas, and, if you think about it, might actually lead you to some interesting revelations about yourself or about society," he says.
Reviewers have praised his collection, calling it "both hip and academic, serious and laid back," according to Thomas Sayers Ellis, author of The Maverick Room: Poems. Ellis goes on to write that Dargan "seems never to exist on the page without the strength of both of his eyes doing different things in the name of all of his senses."
Logorrhea Dementia: a Self-Diagnosis is Dargan's third book and can be purchased through the publisher, The University of Georgia Press, or other major book retailers.