AU Professor's Book Gets Major Media Time
By Rosemary D'Amour
October 6, 2010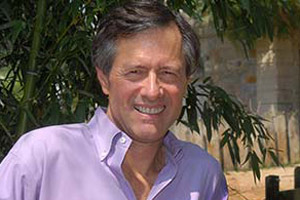 Environmental filmmaker and AU professor Chris Palmer has received critical acclaim for his work, but recently the media has exploded with reviews and commentary for his book, "Shooting in the Wild: An Insider's Account of Making Movies in the Animal Kingdom."
Published earlier this spring, Palmer's controversial book details the world of wildlife filmmaking—exposing the deception and staging that producers sometimes use to get greater entertainment value out of the story they present.
Because nature documentaries "carry the promise of authenticity," as Palmer puts it, people are more likely to take the images presented to them as fact. They may not know that the sounds they hear are coming from a studio recording, or that the animals they watch have been provoked.
AU has featured Palmer's book several times, but the word has gotten out. The story has been picked up all over the country and all over the world, from The Sydney Morning Herald to The Times of India.
The Huffington Post, Good Morning America, The Washington Post and NPR have all run stories on Palmer's book, and the result is a ripple effect that has taken over the blogosphere. Field and Stream Magazine, Ecorazzi, Reddit and Newsbusters are just a few of the blogs that have commented on the issue. 
Reddit's story, taken from the Washington Post's article, was forwarded more than 800 times, and garnered more than 400 comments. MovieFone's website, which feeds to AOL, ran a story that received more than 300,000 hits.
The talk-show circuit is also buzzing about "Shooting in the Wild." "The Tonight Show with Jay Leno" used Palmer's story in their opening monologue, and even Whoopi Goldberg brought up the issue on "The View."
Palmer's book has only seen more and more media attention since its publication, and most recently was featured on Nightline and TV Guide, as well as the Wildlife Art Journal.  Palmer even appeared on Fox News Channel's "Follow the Money" to explain the staging used by many documentary filmmakers. This includes using game-farm animals to create scenarios that would be too difficult to find naturally, such as a pack of wolves fighting a bear.

A 30-year veteran filmmaker, Palmer says that there is a responsibility to present the facts, not sensationalize. But often times, the real story is very boring, and getting the "money shot" could require more time and resources than producers have available.
"Audiences are deceived all the time while watching films, but the question is: when does legitimate artifice become unacceptable deception?" Palmer said. "Pretending captive animals are wild, staging predation sequences, using fake sound effects, demonizing animals and exaggerating their dangerousness, giving the impression that we have no environmental challenges and that all is right with the natural world…these are all ways audiences are misled and deceived."