Literature
WONK Summer Reads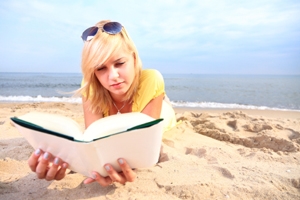 What are members of the American University community reading this summer? We asked for book recommendations from faculty and staff. Their picks range from novels about the world of sports to spy operations:
1) Billy Lynn's Long Halftime Walk by Ben Fountain (2012)
What it's about: The book, set in Texas during the war in Iraq, tells the story of 19-year-old soldier Billy Lynn. The satire focuses on the influence of media and government in selling war to the American public. 
School of International Service associate professor Carolyn Gallaher chose the book because she finds war stories fascinating.
"American culture glamorizes war, but for me the most interesting aspect of war is how it creeps into peoples' lives, how it can come into a life and fundamentally mess with it," Gallaher said. "Even for the victories, war throws a wrench into things."
2) The Signal and the Noise: Why So Many Predictions Fail—but Some Don't by Nate Silver (2012)
What it's about: Silver, best known for political forecasting on the FiveThirtyEight Blog for the New York Times, examines the reliability of a wide array of prediction tools in economics, meteorology, baseball, seismic science, and chess, among other domains.
Peter Starr, dean of the College of Arts and Sciences, chose the book because he feels that distinguishing signal from noise is the master skill in the twenty-first century.
"In a mediatic world where the most outlandish predictions get bandied about with aplomb, Silver's data driven approach is refreshing," Starr said. "His is the work of a 'WONK' in the best sense—passionate in its commitment to the power of statistics, but deeply suspicious of their potential for misuse."
3) In Praise of Athletic Beauty by Hans Ulrich Gumbrecht (2006)
What it's about: The book examines why sports mesmerizes millions. Gumbrecht describes the attraction of sports as "a fascination in the true sense of the word." 
Billy Walker, director of Athletics, chose the book because he is interested in the philosophy of sport. 
"Gumbrecht addresses fans' interest and obsession with sports by examining the aesthetic value and appeal of sport," Walker said. "He puts sport in historical context and argues that, not unlike music and art, sport can be enjoyed for its beauty."
4) Designing Media by Bill Moggridge (2010)
What it's about: Design guru Moggridge delves into the connections and differences between old and new media. The book highlights interviews from 37 notable people in media. 
Scott Talan, School of Communication assistant professor, chose the book because the author is legendary within design circles.

"The idea that we can and do design media is important to understand and think about," Talan said.
5) Washington's Spies: The Story of America's First Spy Ring by Alexander Rose (2007)
What it's about: The author explores the role that spying played in the operation and outcome of the Revolutionary War. 
Jeffrey Rutenbeck, dean of the School of Communication, is reading the book on the recommendation of AU alumnus and Hollywood film producer Barry Josephson, who recently finished filming a pilot based on Rose's book.
6) The Icarus Syndrome: A History of American Hubris by Peter Beinart (2010)
What it's about: The book unveils a history of Americans unable to reconcile their global ambitions with the limits of their capabilities. 
School of International Service assistant professor David Bell Mislan chose the novel because he is interested in how America's uniqueness manifests itself in foreign policy. 
"Beinart seems to think that our can do attitude is unique to us and, subsequently, gets our country involved in quagmires in far-flung places," Mislan said.
7) A Delicate Truth by John le Carre (2013)

What it's about: The novel explores a counter-terrorist operation named Wildlife. The operation is designed to oust a jihadist arms dealer. 
James Goldgeier, dean of the School of International Service, enjoys le Carre's books. 
"I read so much non-fiction that I appreciate opportunities to read novels when I can, and there are few better writers than le Carre," Goldgeier said.