Literature
30th Annual Visiting Writers Series Comes to a Close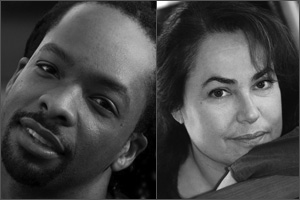 Author Amy Bloom and poet Jericho Brown will appear on campus this month, bringing the Creative Writing Program's 30th Annual Visiting Writers Series to a near close.
Earlier this year, the Department of Literature celebrated the anniversary of its Visiting Writers Series by inviting well-known writers and poets, such as Andre Dubus III and Marie Howe, from around the country to read their works and host Q&A sessions for students, faculty, and the writing community.  Now it's Bloom and Brown's turn to begin wrapping up this year's momentous series with a bang. The series will conclude with a reading by graduating MFA students on May 8.
Bloom, the author of two fiction novels and three short story collections, will read on Thursday, March 17, while Brown, the author of the poetry collection Please will read on Wednesday, March 30.
Bloom released her short story collection "Where the God of Love Hangs Out" in January 2010, which received rave reviews from critics. Francine du Plessix Gray of the New York Times sums up her review with "Brava, Ms. Bloom. Send us an equally sly, dashing book very soon, please."
Director of the Visiting Writers Series, Professor Richard McCann, says Bloom is an excellent choice for the series because she is "widely regarded as one of the most important fiction writers of today," and has been said to get more into one sentence than most writers can get in an entire novel.
Brown, on the other hand, has recently established himself as a poet on the rise after his first collection of poems, Please. Released in October 2008, Please received praiseworthy reviews and won a 2009 American Book Award. Poet and guest of the 2010 Visiting Writers Series Terrance Hayes writes, "I could never say all I loved about this book."
While Brown began his career working as a speechwriter for the Mayor of New Orleans, he is now an assistant professor of creative writing at the University of San Diego. Since his days as a speechwriter, Brown has "developed quite a reputation," says McCann. Brown has recently been awarded a prestigious 2011 National Endowment for the Arts Literature Fellowship for Creative Writing: Poetry to support his future career endeavors.
Both Bloom and Brown attend the series with the possibility of sharing "something authentic with our students and writers community," says McCann, who seeks writers for the series that approach their work with certain vibrancy and enthusiasm. The Visiting Writers Series is designed to encourage a dialogue amongst students, faculty, and community about creative texts.
The readings begin at 7 p.m. in Butler Board Room. For more information, visit the Visiting Writers Series webpage.