Literature
A Willingness of the Heart: An Interview with Kermit Moyer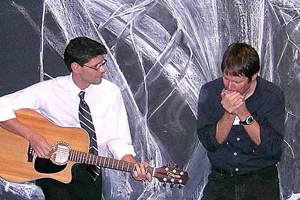 Kermit Moyer and David Keplinger, former and current directors of AU's MFA Program in Creative Writing, respectively, discuss a writer's sense of self and the "willingness of the heart" required of good writers in the workshop and beyond. Moyer's second book, The Chester Chronicles, won the 2011 PEN New England / L. L. Winship Award, given to a book of fiction by a New England author or with a New England setting. Moyer's essay, "A Stranger to Himself," published in Washingtonian magazine in August, 2011, charts his relationship with Parkinson's Disease. The following interview was conducted at Moyer's Cape Cod residence over a period of two days in December 2011.

DAVID KEPLINGER: What are your memories of the first years of AU's MFA Program in Creative Writing?

KERMIT MOYER: I was very excited when we first instituted this MFA program and its "Visiting Writers Series" back in the early '80s. Writers would come to campus each semester for a week. I was excited not so much because I wanted to use the workshops for my own development, though it did become clear to me that I could do that. I just wanted to sit in on the workshops and hear what these writers had to say about fiction. Some of them were writers I was currently teaching in my courses. I was virtually the only faculty member who did that. I attended all of the visiting-writer workshops.

DK: Were you one of the founders of the AU program?

KM: For the first few years I was involved only to the extent that I was teaching Intro to Creative Writing. I published my first story in 1983; I began teaching creative writing only at that time. It wasn't that I needed to wait. But once I published that story in 1983, I felt I had a credential.

DK: That was a big story, published in The Georgia Review. "The Compass of the Heart."

KM: That's right. That was an amazing experience for me. I had written a draft of the story the previous summer, the first story I wrote as an adult. By which I mean I really felt I was discovering something. And what I was discovering was that you didn't have to know where your story was going before you started. You could learn a lot just by writing sentences one after another.  

DK: That goes back to your favorite line by E.L. Doctorow. What was it?

KM: The line was: "Writing a book is like driving a car at night. You can only see as far as your headlights go, but you can make the whole trip that way." But I hadn't even read Doctorow's line yet. What was influencing me back then was a book by William Stafford, called, Writing the Australian Crawl. And he makes the point that a writer is not so much someone who has something to say as he is someone who has a process that brings out new things he wouldn't have thought of if he hadn't started speaking.

DK: What is process to you?

KM: It's working on sentences.

DK: You're a bricks and mortar guy. You worry about this row of bricks.

KM: You could say that. But words are more complicated and interesting than bricks. It seems to me still that there's something vaguely miraculous about composing sentences.

DK: Miraculous?

KM: Because writing sentences so individualizes us…and at the same time is a model of connectedness.

DK: Your attention to the sentence is apparent in the two books, Tumbling (University of Illinois Press, 1988) and The Chester Chronicles (The Permanent Press, 2010). There isn't a sense that you agonized over the sentence, more that you poured love into them. They move slowly. I'm realizing it now, as I say this. When I read the work—that's it! I want the work to go slow. In Tumbling, the final story, "Ruth's Daughter," is written in the point of view of a woman who has an abortion. I taught it to a class of students who later met you. When you came to class, the group was surprised you were a man, even though on the cover of the book was plastered a giant photograph of your face and the author's name is Kermit. Were the first readers of that story shocked that you could write of a woman's experience so convincingly?

KM: They were. I got that a fair amount. It took me by surprise because to me there wasn't much difference between writing a story from a female's point of view and writing from the point of view of anyone who was a stranger to me. I wanted to write "Ruth's Daughter"— it's my sister's story—so I called her up and asked if it would be OK. She said it would be fine. So I said, tell me the story again, and I took notes. With that I had the rough outline.

DK: You were influenced by Frank Conroy and F. Scott Fitzgerald. You have whole passages of Fitzgerald memorized.

KM: One of my favorites is this, from a little known story of his called "The Swimmers": "France was a land, England was a people, but America, having about it still that quality of the idea, was harder to utter: it was the graves at Shiloh, and the tired drawn faces of its great men, and the country boys dying in the Argonne for a phrase that was empty before their bodies withered. It was a willingness of the heart."

DK: A willingness of the heart. Why that passage?

KM: It seems to me to explicate Gatsby. His story is the story of the willing heart in the New World.

DK: What about Frank Conroy?

KM: Frank Conroy's book, Stop-Time, knocked me out when I first read it in graduate school, 1968 or thereabouts. What struck me was the clarity of the writing. It was incredibly clear without at any point losing its other sense of being lyrical and poetic. It was poetic in the best sense of the word. It was poetic in the sense that it was rhythmical at the same time that it was precise. And it was terrific at evoking the feeling of Conroy's experience in the past. It felt to me like my book. Like, how could he have written this? This is my book! (Laughing.)

DK: Did you set out to write Chester with Conroy in mind?

KM: I had Conroy in mind. There are sections of that book in present tense, where he's using present tense in a memoir. It's contradictory. How can you be remembering in the present tense? It was clear that the voice was the voice of the adult, even though he's writing about childhood in the present tense. That was my strategy in The Chester Chronicles.

DK: Conroy came to AU for a year in the 1980s and you had the chance to serve on a few thesis committees with him.

KM: It was incredible for me. He was working in Washington as head of the literary section of the National Endowment for the Arts. When I heard that was the case, I called him and asked him to visit my class; we'd read his book. It was extraordinarily exciting for me. Later he joined the faculty as an adjunct. His way of teaching was not my way, though. From what I gathered—say, it was your story we were discussing today—he'd start by reading aloud the sentences one by one. And he would be cruel—he wasn't being cruel—he would be honest. I guess at some point he'd stop reading once the incidental problems began to mount up. I got to introduce him when he finally came for a reading. But I never managed to get close to him in any particular way.

DK: But his writing brought you close, ironically. His writing for its measure of precision, its clarity. Is that to you the greatest measure of its beauty?

KM: I would say grace. Grace is the greatest measure of beauty. The grace of the language…Well, a lot of it is a matter of rhythm. You know, I'm sure I pointed it out before. The sentences of this book (holding up The Great Gatsby) achieve a rhythm: "Everyone suspects himself of at least one of the cardinal virtues and this is mine: I am one of the few honest people that I have ever known."

DK: And your first sentence of The Chester Chronicles?

KM: "My eyes are hazel. If everyone has a secret physical vanity, this is mine."

DK: I can hear the echo there. Was it conscious?

KM: It was.

DK: Kerm, 30 years ago, when our MFA program was being developed, there were only a handful of them across the country. Now, hundreds. At AWP last year, nearly 8,000 attended. Many of them, graduate students. Many want to do what we do for a living: spend their lives talking about writing and working with other writers. In the face of the competition for such positions, where do you see the purpose and worth of MFA programs today?

KM: In a way, their worth and their position haven't really changed. There's the issue of money, of course. It makes sense to go to a program you can afford. But it also makes sense to go to a program where you'll be excited. One of the good things about a writing program is that it encourages people to read closely. You're doing in a workshop what you don't normally do in other lit courses. We sometimes think of writers as people who are narcissistic and self-involved, but it's really a way of getting you out of yourself and focusing on someone else's work and point of view for a while.

DK: There's that theme again, getting out of yourself.

KM: The particularly paradoxical nature is this: you're getting out of yourself as a way of looking more deeply into yourself. That's the virtue.

DK: So you celebrate the proliferation of MFA programs?

KM: I celebrate the proliferation as I celebrate the proliferation of English departments throughout the country. Studying literature forces you to think about what's not said, or to hear what's said in such a way that requires special attention.

DK: Can that "willingness of the heart" be taught in a creative writing workshop?

KM: The student would have to have a heart willing to accept the teacher's council.

DK: When I was a graduate student my teachers suggested things to me, and as I remember it, I tried anything. That sense of, "I will try anything," the "primitive curiosity" Russell Banks talks about in his interviews, seems the crucial thing.

KM: You have to try anything. No one knows what their work is going to be!

DK: Are there other roles of graduate workshops? Should students join a program under the assumption that it will help them to get published? Isn't that why they come?

KM: A program can't make promises for its graduates. Don't promise what you can't deliver. (Taking down a handful of books and studying the names) But many of the students have published novels and collections of stories and books of poems. Sandra Beasley, a poet, and Liz Poliner, Carolyn Parkhurst, Leslie Pietrzyk novelists. Donna Hemans. Alex MacLennan. Novels. Amy Stolls, a novelist, Maxine Clair, a novelist and poet, and Barbara Goldberg, a poet.

DK: So let's talk about your books now. I'm holding a copy of The Chester Chronicles now and reading the blurb from Michael Cunningham. It says: "Kermit Moyer is one of America's undiscovered treasures. I find myself periodically imagining a parallel world that's exactly like this one, except that in the other world Moyer occupies his proper place in the literary universe. I can only hope that with the publication of The Chester Chronicles, that world is on its way." In 2011 you won the PEN New England / Winship Prize for fiction, which is a major award. You've been asked to read beside the likes of Richard Russo and Frank Deford. All this year, in retirement. How important is it to you, to have that world realized, the one Cunningham is talking about?

KM: The good thing about becoming known is that more people are interested in reading your work. So it feeds the same hunger. After Tumbling got a rave review in the New York Times book review, I got my first fan, a carnival owner named Monte. I liked receiving that letter! I wouldn't want to be so well known that people would point at me. Even as an undergraduate at Northwestern, I can't say I ever had any fantasies about being famous. But I wanted to be validated.

DK: Recently, as I mentioned earlier, you've gained a lot of press because of an article that appeared in Washingtonian magazine. "A Stranger to Himself" maps your relationship to a chronic disease, Parkinson's. Until a few years ago, you never formally announced that you had Parkinson's.

KM: It never seemed significant. That's funny. People made a big deal of that. At a bookstore on the South Coast of the Cape, a very small turnout, I sort of had a stumble and I said, "I'm not drunk, I just have Parkinson's." It was the first time I'd publically announced that fact. There were already, I remember, many people in the audience who knew I had Parkinson's.

DK: After that, you began to write more openly about life with Parkinson's. Your piece was then featured on Michael J. Fox's Foundation's website. Was it a conscious choice to bring that part of your life into the work?

KM: Yes, it was. A conscious choice.

DK: You were diagnosed in 1995. 17 years have passed and it's changed your notion of the self, as you write in the last passages of that essay, speaking of yourself in the third person limited:

"Thus he'd become both the subject and the object of his own attention, which is to say he'd developed a third-person relationship to himself. His once so-familiar self had become a virtual stranger. And his condition was another country—a country that remained foreign even though it was where he now lived, a country whose weather he charted moment by moment and whose landscape was the landscape of his own mind, body, and soul."
Has this disease offered an insight into how, not just you, Kermit Moyer, writer, but everyone is the subject and object of their own attention?

KM: It's an aspect of our alienation, isn't it?

DK: Did your regimen of pills affect how you wrote The Chester Chronicles?

KM: It did in the sense that I did more writing early in the morning. I'd get up at 5:00 in the morning and work til about 11:00. That's a long time, anyway, to spend on something that you're writing.

DK: Did you walk away exhausted?

KM: I'd walk away generally sort of satisfied. I wouldn't think about it until the next day when I was working on some sentences again. My way of working was not to work in terms of plot—what happens next—but in terms of the words on the page.

DK: Was it hard to keep track of what you were working on yesterday when you were just focusing on what's illuminated by the headlights?

KM: Not exactly, because the writing is not as linear as that. It is linear in the sense that you're going forward in a straight line, but a lot of the writing that I'd be doing would be expanding a paragraph that I had drafted the day before. So much of what I wrote proceeded along that way. After reading Stafford, I'd envy poets. He could get up and write a new poem daily. Writing prose requires more peasant-like skills, going back and returning to a state of mind, plodding along instead of encouraging a new state of mind every day.

DK: You got your first (and only) job at AU because the secretary lifted your resume out of the file. Sitting here I realize I had that experience, too, and with you. I applied for a position in the MFA and was among what must have been over 200 applicants. Denise Orenstein, the director at that time, happened to like something I had to say about teaching the children of ranchers in Colorado. And when we met, you and I, there was a clear connection. So, I got the job.

KM: That's right. Lots of accidents.

DK: A lot of accidents, right? When I'm advising students who want to become teachers, I tell them they have to trust that these accidents will happen, but not in the way they might have planned.

KM: Absolutely.

DK: Teaching was the right thing for you.

KM: Without a doubt. It used me well. I mean, I felt like, if I were a hammer, I was being used to drive a nail. There was an exact correspondence between what was needed of me and what I had to give.

DK: Did teaching teach you?

KM: In some fashion, yes it did. It means allowing yourself to be spontaneous, and it means being present in the moment in the classroom, as opposed to being all charged up with what you had intended to say. You can discover new directions by paying attention to what is happening in the present moment.

DK: It does sort of move like a story, in the way you describe the movement of a story. Sentence by sentence. And of course the whole workshop depends on the students in it, their willingness to be open.

KM: I was just thinking that to listen well, which you have to do in a workshop, requires "a willingness of the heart" to change. You can't be too rigorously committed to your first draft. It took me a long time to learn that but I have learned it since then. To be patient when Amy is talking about a draft of a story I've asked her to read. And not to be defensive. We're not going to make this story worse. If I'm open to what she has to say, we'll only make it better.

DK: Kerm, there's such beauty in that. "To listen well…requires the willingness to change." That's a piece of wisdom I'll carry with me.

  

Kermit Moyer's second book, The Chester Chronicles, won the L.L. Winship Award for fiction from PEN/New England in 2011. David Keplinger is the author of four books of poetry, most recently The Prayers of Others, which won the Colorado Book Award, and The Most Natural Thing, forthcoming in 2012.