Literature
Understanding Queer Materiality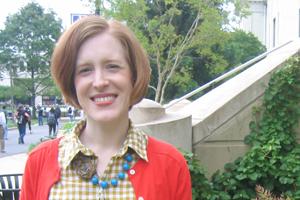 In 1778, Lady Eleanor Butler and Miss Sarah Posonby eloped from Ireland and retired to Llangollen, Wales, remaining there for fifty-one years, changing a community, and defying modern stereotypes through the life they carved out. Literature professor Fiona Brideoake knows these women, who have become known as "The Ladies of Llangollen" like they are old friends and has detailed and analyzed their story in her paper "Keep Yourselves in Your Own Persons, Where You Are: The Ladies of Llangollen and Queer Self-Fashioning." The paper recently won the Hans Turley Prize for Queer Eighteenth Century Studies, which is awarded yearly at the annual meeting of the American Society of Eighteenth Century Studies. Brideoake presented her research on the Association's Queer Materiality Panel.
Brideoake sees materiality as a unique lens through which to view historical and literary individuals such as Butler and Ponsonby. "When we look at material items as texts in and of themselves," says Brideoake, "we're looking at tangible objects of cultural production. My work seeks to examine how eighteenth-century individuals create and utilize material culture and what this says about who they are and what these object represent and achieve, rather than only considering the poetry or prose or letters as legitimate objects of analysis." For The Ladies, their cultural output included the large gothic house they called home and where they welcomed hundreds of travelers. The place soon became a top destination for those visiting Wales. 
"The Ladies have been described by critic Terry Castle as a mascot for the 'no sex before 1990' school of thought that claims that female same-sex relationships could not be sexual prior to the emergence of the category of the lesbian in the late nineteenth century," says Brideoake. "Although Butler and Ponsonby lived together, dressed in ambiguously gendered clothing, shared a bed, and were clearly life partners, they have not been considered as such by many scholars." 
According to historians throughout the 1970s and 1980s, contemporaries of The Ladies had no conception that this relationship could be sexually intimate. But according to Brideoake, this is patently false. "Their relationship was subject to hostile public scrutiny throughout their lives," says Brideoake. "The nature of their relationship was even called into question by a 1790 article in the General Evening Post entitled "Extraordinary Female Affection" which used the language of gender difference to suggest that their relationship was sexual." Butler and Ponsonby immediately recognized the charge leveled against them, and thus appealed to Edmund Burke, a philosopher and Member of Parliament, most famous for his support of the American colonists in the American Revolution. After hearing of their plight, Burke cryptically advised the Ladies to "keep yourselves in your own persons, where you are."
And they did just that. "Burke suggested that The Ladies remain in character and in place," says Brideoake. "Their job was to keep up a public performance of sexually virtuous, genteel, and geographically-fixed identity. I argue that one of the ways they did so was by transforming what was a small cottage into what became a magnificent, gothic tourist site."
Soon their small cottage, called Plas Newydd, featured grand gothic arches, heavy Welsh carved oak, stained-glass windows, and a grand private library like those of local landed homes. They created a picturesque garden, planted crops, and exchanged books and plant cuttings with their landed neighbors, living out their lives, according to Brideoake as "long-settled locals." 
"They suggested their home had always been there and would always be there."
Nearly 180 years later, The Ladies are still remembered for their striking home and unique "self-fashioning." When Brideoake visited Llangollen, she found the stories of the Ladies to be alive and well. "You have to ask around to find their house, but when you do, it's clear that the town still sees it as a tourist center and is anxious to celebrate the fame of their town because of The Ladies as well as its general place in Welsh history." 
"When you walk to the house, leaving what would have been the eighteenth-century village," says Brideoake, "you can see why The Ladies chose this spot to spend their lives. Situated in the shadow of Castell Dinas Bran, a towering hill and ruined medieval fortress, their home accords with the romantic vision they had for themselves as refined, aesthetically-appreciative individuals, distinguished by birth and talent from the working class inhabitants of the eighteenth-century town.
Brideoake first became interested in The Ladies while taking an interdisciplinary eighteenth-century course entitled "Duchesses and Drudges" at the Australian National University, her alma mater in her native Australia. The course, co-taught by a literary scholar and historian, spent a semester examining gender and sexuality in the eighteenth century with reference to a range of literary works, historical figures, and philosophical and political debates. That's when Brideoake discovered The Ladies. "I saw them as key figures in understanding female same-sex desire and the way it has been understood and represented by literary historians, as well as the various communities, both academic and otherwise, that draw on such historical examples in articulating their own identities."