Literature
Annual Faculty Benefit Reading
Held by the Department of Literature as part of the Visiting Writers Series.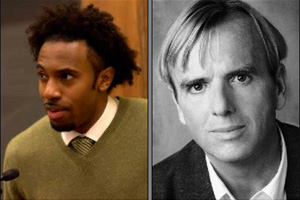 On September 23 at 8 p.m. in the SIS lounge, the Department of Literature will hold its annual Faculty Benefit Reading as part of the Visiting Writers Series. While previous years' readings have raised money for Food and Friends and the Whitman Walker Clinic, this year's proceeds will benefit the family of literature and performing arts professor Frank Holliday, who recently died of cancer.
"The difference [between this benefit reading and previous ones] is that Holliday was known to […] both people who are reading and people who might be contributing," says Richard McCann, literature professor and director of the series.
The reading of original prose and poetry pieces will be presented entirely by faculty members of the Creative Writing MFA Program. Presenters include McCann (Mother of Sorrows), Kyle Dargan (Bouquet of Hungers), Danielle Evans (Before You Suffocate Your Own Fool Self), Barbara Goldberg (The Royal Baker's Daughter), Stephanie Grant (Map of Ireland), David Keplinger (The Prayers of Others), Rachel Louise Snyder (Fugitive Denim), and special guest Caleen Sinnette Jennings (Playing Juliet/Casting Othello) from the Department of Performing Arts.
"Largely, the aim of the readings has been to benefit a good cause," McCann says. "The readings also give the creative writing faculty—and the creative writing students—a chance to get to know the work of [their colleagues and professors]." 
Suggested admission is $5 at the door. For more information about this and other Visiting Writers Series events, visit their Web site.