Literature
AU Writer Named One of D.C.'s Attention-Getters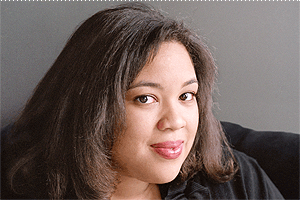 Danielle Evans is on a roll. Washingtonian.com has named the AU College of Arts and Sciences creative writing teacher one of 40 D.C. attention-getters who shaped 2010.
Evans, author of the critically acclaimed short story collection Before You Suffocate Your Own Fool Self, joins such D.C. movers and shakers as Secretary of Defense Robert Gates, mayor-elect Vincent Gray, author Christopher Hitchens, Supreme Court justice Elena Kagan, former schools chief Michelle Rhee, and Washington Redskins head coach Mike Shanahan.
Also taking a bow on the list is AU alumna Molly Smith '76. The Arena Stage's artistic director conducted a campaign to build a new theatre complex at Arena Stage, culminating this fall in the Arlene and Robert Kogod Cradle.
Evans discusses her life and work, as well as the role of research in creating her fiction, in an interview with American Today.
For fiction writer Danielle Evans, author of a critically acclaimed collection of short stories, figuring out the role of research in her work can get a bit tricky.
The creative writing teacher in AU's College of Arts and Sciences and author of the collection Before You Suffocate Your Own Fool Self has been working for years on a novel that draws on events during the civil rights era. For a young writer born decades after those events, research is essential. The problem is, when do you stop poring over history books and start putting words on paper?
"I think that for a long time another thing that I was doing to cheat on my novel was that I was like, 'I'm writing this novel about U.S. history. Therefore any book I read on U.S. history is research for my novel,'" she said. "I spent a year reading, which was useful but at some point I had to confess that I couldn't spend the rest of my life knowing everything there was to know about U.S. history so that I could pick and choose what I wanted in the novel."
Trickier still is seemingly straightforward research about a place she had never been—Tallahassee. In her story "Snakes," a nine-year-old mixed-race girl is forced to spend the summer with her spiteful old white grandmother. "Unbelievable," the grandmother says upon seeing the girl's cornrows, and things go downhill from there. To keep the girl from swimming in a nearby lake—and more importantly, to control her—the grandmother convinces her the lake is infested with Burmese pythons—and several cats and large dogs have lately come up missing. But the lie works too well. The girl's fear of snakes grows to a crippling phobia; she's afraid to even leave the house.
The problem with the story, an editor told Evans before "Snakes" was published, was that it needed a stronger sense of place. So Evans started doing research. She needed swamps; she needed a locale with country clubs. "I settled on Tallahassee because it seemed to sort of suit the physical and the class landscape of the story, and so I did this research and I looked up the flora and fauna of Tallahassee and . . . country clubs and houses and the architecture . . . And I do think it really helped the story pop some to have that landscape."
Fast-forward a year and a half later, and Evans was at her father's house, checking the galleys of Before You Suffocate Your Own Fool Self when her stepmother was thumbing through "Snakes." "I didn't know you'd spent time in Tallahassee," her stepmother said. Whereupon Evans replied, "Oh, I haven't," and described the research she had done for the story.
Except that she had. Her father pointed out that the family had once stopped in Tallahassee on a drive from Georgia to Disney World. "I remembered this day, but all these years I thought it was in Georgia," Evans recalled.
"I remember that in between we had stopped at this lake and we had gone swimming, in this sort of swampy lake, and there were crocodiles—I always forget whether they have crocodiles or alligators down there—there were these green things with large jaws and water, and my father freaked out and made us all get out of the water and my mother was furious . . . So this all kind of happened in Tallahassee, which was the one day in my life when I was in Tallahassee. So it ended up after all that work I had my subconscious to thank."
Critic Ron Charles recently posted a video review of Before You Suffocate Your Own Fool Self on washingtonpost.com.