Literature
Embracing Multilingualism in Composition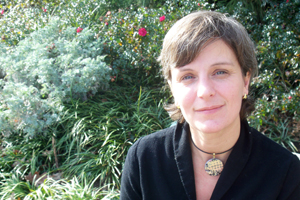 With nearly 150 countries represented within the university's diverse student body, it's no surprise that students are exposed to a host of cultures and languages. However, one professor argues that this advantage is actually a double-edged sword when it comes to composition.
Angela Dadak of the Literature Department is helping international students emerge from this babel with a confident voice through her college writing seminar, Lost in Translation: Languages in a Globalizing World. "We accept an accent when someone speaks, if we can understand them, but it seems that we have an intolerance to other cultures' approaches when is comes to writing in English," she says.
Dadak's composition class explores what happens when students' preconceived notions of how traditional English writing should be crafted intersects with unfamiliar aspects and traits of composition in foreign languages. She contends that what students gain from this hybrid mix is a different kind of writing that can break down the barriers of traditional Western composition and open their minds to multilingual writing. Multilingual writing, unfortunately, is often seen as a problem. "When I'm thinking of multilingual writing as a 'problem,' I'm thinking of when a professor gets a paper from a multilingual writer and it has differences that wouldn't normally occur in a native English speaker's paper," she explains. "The structure might be different, how they put together evidence is different, or the language is different. Some aren't aware that there's a difference between a cultural difference or a mistake."
The class, which she says is made up of students with and without multilingual backgrounds focuses on enriching student writing through culturally aware coursework. "Sometimes we don't even realize the cultural assumptions behind the assignments we give," she says.
Dadak has worked with non-American students in the past, and she has seen students struggle with readings and homework assignments because they aren't familiar with certain aspects of American culture. She's seen international students struggling to understand the sarcasm and humor of David Sedaris and Jay Leno, to students writing about the American education system without ever experiencing it. "International students are going to have different experiences, knowledge, and perspectives; how do you work with that? These are the kinds of things I have to think about when I'm teaching," she says.
Dadak asks her students to finish out the course by writing a final multilingual personal essay that ties research, first-person narratives, and a second language together. This assignment has produced interesting responses in the past, including essays about anything from poetry translation to the internal struggle of maintaining a native name versus adopting an American name.
The work her students put into these final essays extends beyond the boundaries of the classroom and into the real world, as Dadak incorporates her work with multilingual writers into workshops and conferences that she attends. She's currently chairing two workshops at the annual meeting of the Conference on College Composition and Communication this coming March that will draw on her work. She and other multilingual writing specialists from around the world will be talking about how to incorporate multilingualism into institutional leadership, advocacy, and academic support.
At the end of the day, what Dadak says motivates her to continue in her field is changing the ways in which students view their writing. "I have students who say, even now, 'I want someone to read my paper and not know it's written by an international student.' What's wrong with it being written by an international student?" she says. "I'm hoping to build students' confidence in their writing and to help them set realistic goals."
Dadak's class is one of many college writing seminars and may not be offered every term. Students interested in her class or work should visit her faculty profile for more information.