Literature
Jennifer Allison's Gilda Joyce, Psychic Investigator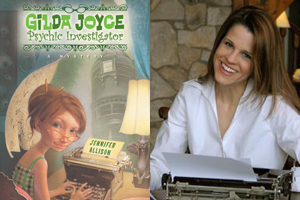 High schooler Gilda Joyce, psychic investigator, knows the signal: an itch in her left ear followed by a communication from the "other side." And then there are the creepy crimes to which she finds herself drawn to solve. A strange life indeed for a somewhat quirky teenager, but her future is written—for now, anyway, according to her creator Jennifer Allison, MFA creative writing '98, who is five books into the Gilda Joyce series (the first was published in 2005).
Here's the backstory: Gilda has been honing her psychic skills to communicate with her recently deceased father. But her clairvoyance also gets her entangled in a series of mysteries involving both the living and the dead. In the latest book, The Bones of the Holy, Gilda travels to St. Augustine, Florida, where her mother is about to remarry —the prospective husband is an antiques dealer, who seems to be harboring some ghostly secrets in his historic house. 
Allison began the Gilda Joyce series after working a long and varied string of jobs, including a stint as a shopping mall pianist. When the dot-com she was working for went under and she found herself with time on her hands, she turned to what she loved doing most: writing. And so the Edgar Award nominated series was born. 
The first book, Gilda Joyce: Psychic Investigator, is set in San Francisco, where Allison was living at the time. Subsequent books follow Gilda around the country and abroad, always to places where Allison has lived or visited. "I need to be able to really picture where and when things are happening, and setting things in places that I know in pretty intimate detail helps me know my story," she explains. "Some little nuggets of history are woven in there. I find it interesting to do that; I think it inspires me. When I'm in a place, I think of events that could have happened in that location. The places are almost characters in the books because they have so much influence on what happens." 
Like Gilda Joyce—who is always typing spy reports, writing in her journal, or writing novels in her spare time—many of her fans are young writers. "Lots of the readers love that Gilda's a writer herself," says Allison. "A lot of [them] feel this connection to the main character. They're great readers, they're really smart, they're increasingly younger and younger." 
A self-described literacy activist, Allison enjoys connecting to her readers in the classroom. "I'm really interested in literacy in our country and how to get kids more access to books and help them find books that they really enjoy reading," she says. "There are too many situations where kids don't have access to those books. I find it gratifying that my values are in line with what I work on."

She has created an interactive website with a section for teachers who are using the books in class. The teacher's guide features questions for discussion, creative art projects, and suggestions for writing exercises.

Allison intends to write at least one more Gilda Joyce book. "Grand plans for the future are to find a conclusion for the Gilda Joyce series, whether it's one book or three more books, and to have a sense that the reader can journey through them and reach a conclusion."

She's currently working on a children's picture book about her life as a mother of three. "It's very humorous and based on things that my kids have inspired—things that are annoying at the time, but funny later," she says. Allison is also interested in switching genres and maybe writing a play some day. "I'd like to keep growing in other areas," she says.