Literature
4400 Massachusetts Avenue NW
Washington
,
DC
20016-8047
United States
Writer as Witness Colloquium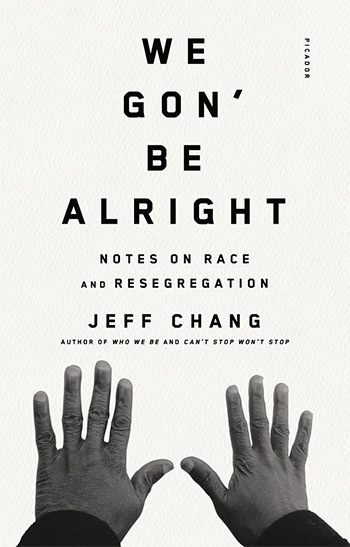 Colloquium:
Bender Arena, Wed., Sept. 6, 8:00 p.m.
Book Orders:
We Gon' Be Alright at AU Campus Store

On behalf of the Department of Literature and the Writing Studies Program, we welcome you to American University. To set the stage for your first year here at AU, we have chosen a book that we call our "community text" for you to read before you arrive in August. You and your classmates will discuss the book and write about it in your College Writing class. The Writing Studies Program and the Campus Store will also sponsor an essay contest to honor the best writing inspired by the community text.
The dialogue we develop around the challenging themes that define our community texts unifies our students and faculty in an intellectual experience. When we ask tough questions, explore controversy, listen to one another respectfully, and sharpen our claims, we illustrate how writing is a social act at the heart of an academic community. Welcoming our text's author to campus to discuss their work is an essential part of that shared intellectual experience.
We're delighted to announce this year's choice: Jeff Chang's We Gon' Be Alright: Notes on Race and Resegregation. Jeff Chang has written extensively on culture, politics, the arts, and music and has been awarded numerous honors, including the American Book Award and the Asian American Literary Award. He is currently the Executive Director of the Institute for Diversity in Arts at Stanford University. We will bring Mr. Chang to campus this fall for the twentieth annual Writer as Witness Colloquium on Wednesday, September 6, at 8:00 p.m. in Bender Arena. He will address the American University community and meet with students and faculty to discuss the book, as well as the craft, artistry, and research that went into its creation.
Writing about We Gon' Be Alright, Georgetown professor of sociology Michael Eric Dyson (author of the recent Tears We Cannot Stop: A Sermon to White America) says, "In the midst of our tense racial debates, this book is required reading." In these provocative and powerful essays, Chang examines the recent tragedies and widespread protests that have shaken the country. He looks at the barriers in the way of progress towards cultural equality and racial justice, exploring issues of resegregation and the rise and fall of the idea of "diversity" in the US through topics like #BlackLivesMatter, Ferguson, student protest, and Beyoncé's Lemonade. Carlos Lozada of The Washington Post says that We Gon' Be Alright provides "an unforgettable discussion of the Asian American experience," and Kirkus, in a starred review, calls it "A compelling and intellectually thought-provoking exploration of the quagmire of race relations."

Student Essay Competition
Read Writer as Witness 2017 winner Christie Na's essay, "Invis-ABILITY."

Open to all Writing Studies students. Sponsored by the Writing Studies Program and AU Campus Store.
For more information, please contact Lacey Wootton, Director of the Writing Studies Program, at lwoott@american.edu.

Previous Writer as Witness Texts
2016: S Street Rising, by Ruben Castaneda

2015: Chasing Chaos: My Decade In and Out of Humanitarian Aid, by Jessica Alexander
2014: The Influencing Machine: Brooke Gladstone on the Media, by Brooke Gladstone
2013: Notes from No Man's Land, by Eula Biss
2012: The End of Country, by Seamus McGraw
2011: The Good Soldiers, by David Finkel
2010: The Moral Underground: How Ordinary Americans Subvert an Unfair Economy, by Lisa Dodson
2009: True Enough: Learning to Live in a Post-Fact Society, by Farhad Manjoo
2008: The Devil's Highway, by Luis Alberto Urrea
2007: The Ponds of Kalambayi, by Mike Tidwell
2006: Love in the Driest Season, by Neely Tucker
2005: Fragments of Grace, by Pamela Constable
2004: Newjack, by Ted Conover
2003: First They Killed My Father, by Loung Ung
2002: Savage Inequalities, by Jonathan Kozol
2001: Bad Land, by Jonathan Raban
2000: Almost a Woman, by Esmeralda Santiago
1999: My Own Country, by Abraham Verghese
1998: There Are No Children Here, by Alex Kotlowitz