Achievements
New Society Honors Outstanding Musicians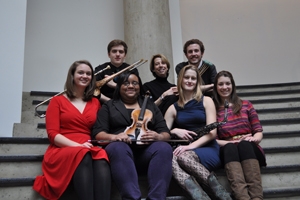 If you've attended concerts and recitals at American University you know some stellar musicians have passed through the program, providing wonderful artistry while perfecting their craft. Now, these extraordinary musical artists will be further honored.
Nancy Snider, director of the American University Music Program, has established the Director's Musicians of Accomplishment (DMAs). The musical society was created this year to recognize music students who exhibit exemplary musicianship, scholarship, and contributions to the program.
Snider chooses the students who will receive the award based on a set of criteria. First is talent and the realization of that talent through hard work and mature musical expression. Second is grade point average and approach to their academic work. Third, students are judged on their general attitude and contributions to the music program.
"We have students who weren't just coming in, doing their thing, and then leaving," says Snider, "but who help create and define what our program is. That is what makes good musicianship, a combination of all these different attributes. It's not just one area or another; it's the combination plus the attitude of mutual support as members of a team, shoulder to shoulder with your fellow musicians all serving this higher purpose."
Snider's first class of DMAs are all scholarship recipients and include four seniors and one junior. Included are some of their accomplishments:
Carley DeFranco, senior vocalist: Concerto and Aria Competition finalist; David W. Wainhouse Scholarship; Dean's Scholarship and Dean's List; soloist for the Chamber Singers and Chorus
Katherine Riddle, senior vocalist: second place NATS, classical college freshman/sophomores–women 2010; first place NATS, musical theatre college juniors/seniors–women 2012; third place aria and concerto competition 2012; first place aria and concerto competition 2013
Helen West, senior saxophone player: Concerto and Aria Competition finalist (twice, second and third place); member of the American University Saxophone Quartet (performances at the International Saxophone Symposium, commissioned works)
Alexander Witt, senior trombonist: Concerto and Aria Competition finalist
Alison (Allie) Martin, junior violinist: Concertmaster of AUSO; first place in the MTNA Maryland State Young Artist Competition; first place in the MTNA Eastern Division Young Artist Competition; first place in the 2012 AU Concerto and Aria Competition; first place in the 2012 National Association of Negro Musicians Local Competition
Kevin Eikenberg, a percussionist, was named an Honorary DMA this spring.
Being awarded the DMA doesn't end with simple recognition, however. Students receive practice privileges including access to the larger and nicer practice studios after hours when not needed for teaching. Finally, they each are awarded a $50 stipend to spend on music-related activities, sheet music, etc.
The DMAs also enjoy extra performance opportunities.
"We have an Applied Music Performance Lab, and they were featured performers at the lab," Snider explains. "So other students could hear and see what kind of qualities I am looking for. We also have some interesting things coming up. We were invited to perform at the Unity Church on Capitol Hill for a series that will feature the DMAs every Sunday in April. We are also in the planning stages of a Kennedy Center Millennium Stage concert, which will be on September 15, 2013, at 6 p.m. Finally, we are also looking to do a workshop or performance at the Sitar Arts Center." Those students who graduate this spring will return for the performances in the fall.
These performances will allow the musicians the opportunity to perform together as well as be featured soloists. Carley DeFranco, the senior vocalist, is excited about the opportunity.
"The cool part about the DMAs," she says, "is that we are all pretty competitive musicians that are capable of working together without a collaborative pianist. So we will be performing pieces just with ourselves. Allie [Martin] and I did a set of four songs by Holst during the Applied Music Performance Lab recital, and will also perform them at the church. They are the perfect thing for a church setting. Also, Katherine [Riddle] and I are performing a Mozart duet together."
Speaking of receiving the award, DeFranco says, "It is really nice to receive this kind of recognition because so much of my day is toiling away and working at the details. It is such an intense career path and life choice for me. I get so much joy out of doing it that I don't feel that I need the recognition, but it is really nice to be put in the same category as Allie, Catherine, Helen, and Alex. I respect them so much, and I respect Nancy's opinion so much. Being chosen for this makes me want to be an even better musician."
"What makes Carley stand out," Snider says, "is all her extra activities are not just hobbies, they are all a part of her being a total musician. She has a kind of musical intelligence I don't see very often. People can develop their skills, which is hard enough. But whenever someone brings the intelligence that Carley brings to the table . . . that is when I am really blown away."
Snider expects the Director's Musicians of Accomplishment program to continue every year. She will designate deserving junior and senior musicians each fall. Five musicians were chosen this year, but that number could vary.
"It will depend on who fits the bill," she says. "I'm looking for ambassadors for the program and for people who have honored the art form by the way they work and apply themselves. What better way is there to accomplish this than to show people an example of those in the program that I feel most emulate these musicianship qualities?"
Information about the AU Music Program and Nancy Snider is available online.
Upcoming Performance
The Director's Musicians of Accomplishment will perform at the Kennedy Center's Millennium Stage on September 14 at 6:00 p.m. A live stream will be available on their website and will also be archived for future viewing. The performance will include works by Wolfgang Amadeus Mozart, Aaron Copland, Kurt Weill, Adam Guettel, Maurice Ravel, Ryo Noda, Matthew Heap, Charles Ives, and Helen West.