Athletics
Former Soccer Player Racing to Success on the Track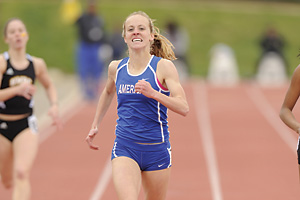 Erin Koch gets a real kick out of running.
A four-year member of the AU women's soccer team, Koch joined the track team last year after caving to prodding from an athletic trainer who knew all about her speed.
She was hooked, and AU track coach Matt Centrowitz is happy. She won the 1,000 meter run at the Patriot League Indoor Championships last year with a time of 2:57.37, the fourth-best in AU history.
Now she owns a record all by herself. On April 1 Koch set the new school mark in the 1,500 meters at the Colonial Relays in Williamsburg, Virginia.
"It was the first time that I was in a big field and so I was able to tuck in for the first few laps instead of having to lead the race or chase a girl down," said Koch, who finished second. "I felt really relaxed the entire time. With a lap to go I decided to go for it. It was a good race because I ran my fastest time. It's definitely very cool to be in the books. It's something that means a lot. But it's not something to get so excited about and settle over. I still want to shoot for faster times and better times."
A mathematics graduate student, Koch has just this year of track eligibility left, so she plans to make the most of it.
"There are definitely goals that I'm setting but I'm wanting to take it one race at a time," she said. "If I run each race as it comes then the bigger goals will come."
The Patriot League Outdoor Championships beginning May 6, NCAA Regionals on May 28, and NCAA Nationals on June 9 remain on the schedule, and in the forefront of Koch's mind.
The Colonial was a fruitful meet for the AU men's team as well. The 4-by-1,500-meter relay team of Craig Brown, Conor Sullivan, Jeff Brannigan, and Colin Eustis took first place. It's been a successful month for Brown, who on April 9 placed third in the 3,000 meters at the Maryland Invitational with a time of 8:15.24, the second fastest time in program history.

Eagles Mobile App Has Landed
AUeagles Mobile, a new application for mobile devices that brings Eagles athletics to fans wherever they go, now is available for Apple and Android products. It costs $1.99, which covers users through the 2011-2012 academic year.
"We are excited to offer this new AUeagles Mobile," Director of Athletics and Recreation Keith Gill told AUEagles.com. "We believe the app will be another great tool to help us connect with Eagles fans. Plus, it's just really cool."
That it is. Among its features are:
behind-the-scenes content
app-only promotions and special deals
The app is available for download on the Apple Store and Android Marketplace.