Alumni
Math for America DC-style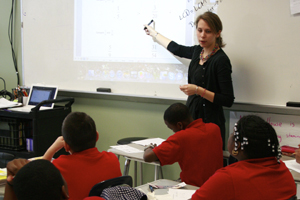 Math teacher Katherine Collins explains to her sixth-grade students at Cesar Chavez Public Charter School how to convert improper fractions into mixed numbers. She tosses out an example and challenges them to perform a calculation. As Collins watches the lights go on in her students' heads, she feels her own heart light up. "That's why you teach, that's why you stand in front of a class," she says.
A second-year member of a Math for America D.C. cohort, Collins is enjoying her first year of teaching since receiving her master's degree in 2010. Math for America D.C. is a five-year fellowship program. The D.C. program requires all participating student teachers to earn their MAT in secondary education: mathematics from AU during the first year of the program. First-year students receive full tuition and a scholarship to cover education fees, plus a $22,000 stipend for living expenses. In addition to coursework, each cohort member commits 500 hours to student teaching.
Begun in 2008 in partnership with the Carnegie Institute for Science, Math for America D.C.'s mission is to increase the number of highly qualified math teachers in D.C. elementary and secondary public and charter schools. The program has its headquarters in New York and is active in school systems in Los Angeles, Berkley, San Diego, Boston, and Utah.
In the second year of the program, with degree in hand, students begin their four-year teaching assignment. They receive an annual $12,500 stipend in addition to their teacher's salary, which compensates for the disparity in salaries among career educators and mathematicians.
Collins was among the first group of students accepted into the D.C. division of Math for America in 2009. "The first year is very busy because you're getting your master's and you're doing all this fieldwork, and you're not even really figuring out what kind of teacher you're going to be, but what kind of teacher you want to be," she says. "The first and second years are very, very different."
She says teaching in D.C. schools is very different from her own experience in a suburban school with rigorous academic standards. "I didn't expect the day-to-day to be what it actually is, with the remediation and dealing with students' behavior," she says. "But I have also seen what a successful classroom looks like and how beautiful it is when students are watching—and you can see that."
While she's taught advanced math classes, like precalculus and calculus, to high school students, Collins emphasizes the importance of working with younger students, something she plans to continue. "I think middle school is where you need to lay the foundation for the higher level stuff. You're not necessarily erasing the mistakes that kids have [made], but [you're] setting them up for a more successful future."
With her foot in the door as a mathematics educator, Collins hopes to continue developing her skills as an educator of young children and moving her students forward. "Over the next three years, I just want to look back and say I took every opportunity I could as an educator and challenged myself to think in creative ways."