Mathematics
Statistics Professor Receives Mentorship Award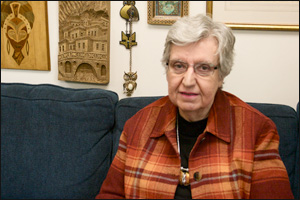 Elizabeth L. Scott Award winner Professor Mary Gray recounts how she moved from theoretical statistics to applying statistics to social change.
Early in her teaching career at AU, Department of Mathematics and Statistics professor Mary Gray received notice of the retirement benefits that she could expect. If she worked until she was at least 65 and then retired, she would get a monthly benefit payment. But there was one major problem—there were two monthly payment columns, one for men and one for women, and men were getting 15 percent more. "I called up the pension provider and said, 'You've forgotten that in 1972, a law was passed that said you can't discriminate on the basis of sex in anything related to employment,'" she explains. "They said, 'Oh, you don't understand the statistics. Men don't live as long as women, so you have to give them more each month.' I said, 'So you're going to guarantee that I'm going to love longer than my male colleagues?' They said, 'You still don't understand this.'"
Determined to do just that, Gray volunteered to help accumulate some statistics to illustrate the difference in life expectancy for men and women for a court case in which the Department of Labor was suing another university with the same pension plan as AU. It turned out that men weren't living as long because at the time, more men smoked, more men drank to excess, and more men were drunken or reckless drivers.
During the settlement conference between the Department of Labor and TIAA Cref, the company running the pension plan, representatives from the company conceded that maybe she did understand the statistics, but she didn't understand the law. "I figured it couldn't be that hard—it couldn't be nearly as hard as a PhD in math—so I decided to take a few law courses," says Gray.
She enjoyed her courses so much that she completed a law degree at the Washington College of Law. "By the time the case got to the Supreme Court, I was a member of its bar and I could write a brief in the case," she says. "And the woman who brought the suit along with the Department of Labor won. Now there's no differentiation in employment relation pensions on the basis of sex."
Since that time, Gray has been using her statistics background in legal cases that often deal with civil and human rights issues. "My PhD is in a very abstract area of mathematics. It occurred to me that while I was proving theorems that I thought were beautiful, they weren't really advancing the condition of mankind," she explains. "I switched over to becoming an applied statistician."
Gray has spent most of her career using her knowledge of statistics and the law to help others. She collected data in prisons across Rwanda to help put people responsible for the Rwandan genocide on trial. She helped establish the National Human Rights Commission for Iraq, which led to establishing principles for voting and voter education to convince people to go out and vote.
When AU had a PhD program in the Department of Mathematics and Statistics, Gray managed to get external funding to help African American and Latino students not only get into the program, but graduate with a PhD. The African American population is about 12 percent, she says, and at the time, the percentage of African Americans among people working toward PhDs in mathematics was less than 2 percent. "For several years, we had more African American PhD students than anywhere else in the country in spite of the fact that we're a relatively small school," she says.
Gray was recently notified that the Committee of Presidents of Statistical Societies would be awarding her the 2012 Elizabeth L. Scott Award in August. The award is given to someone every other year "who has helped foster opportunities in statistics for women by developing programs to encourage women to seek careers in statistics; by consistently and successfully mentoring women students or new researchers; by working to identify gender-based inequalities in employment; or by serving in a variety of capacities as a role model."

To Gray, it's an acknowledgement of the advances she's made over the years. "Sometimes you feel that you're just beating your head against the wall when you're trying to do something for equal rights for women or similar issues," she says, "so it's nice to see that somebody actually recognizes that you've made progress."
Helping out women in her field seems like a natural progression to Gray. "My theory is that somebody helped me pay for my education," she says. "It's a question of paying back for how fortunate you've been. If you can do something to help other people, that's what you try to do."
She feels especially driven to the cause because of the research she's done all over the world. "A lot of us complain about what goes on in this country," she says. "But when you see the Palestinian refugee camps or the people in Rwanda, you feel very grateful for what we have and try to make things a little bit better for others."