Research
Hunting the Nightmare Bacteria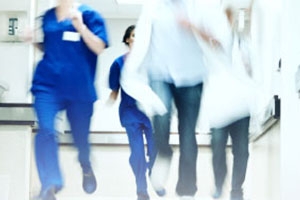 To see the full FRONTLINE program and learn more about drug-resistant bacteria, see the Workshop's site.
For decades, it's gone something like this: You get sick. You take antibiotics. You get better.
It's not that simple anymore.
All those years of prescribing—and in some cases, over-prescribing—antibiotics have led to a bacterial pushback: the emergence of an ever-growing number of drug-resistant bacteria, immune to even the best of our current medicines.
 
Doctors and researchers alike have been aware of the problem, and have been struggling to get a handle on it. There have been plenty of reports, and plenty of studies—but not a lot of public conversation. And not a lot of action.
 
A FRONTLINE production with American University School of Communication's Investigative Reporting Workshop may change all that.
 
Hunting the Nightmare Bacteria gives viewers an inside look of this ongoing, and increasingly critical, battle to keep us healthy. With unprecedented access to the National Institutes of Health, and through several compelling personal stories, the production team has sounded the alarm about the growing threat from these deadly "superbugs." The program makes its PBS debut October 22, after a premiere screening Monday night at SOC's Wechsler Theater.

A Post-antibiotic Era
 
"I say 'crisis' because the experts use the word 'crisis,'" says FRONTLINE producer Rick Young. Young partnered with The Workshop five years ago to establish a FRONTLINE production hub at AU, the only university-based production team in the country.
 
The scariest find from the team's reporting? "The rate at which this is evolving and changing. The speed with which the threat has emerged."

"I'm not a science guy," Young admits. "So this was a little bit out of my usual territory." He'd been aware of the issue in a general way, but what struck him as he and his team dug deeper was the "severity of concern" within the medical community.  
 
And there is good reason for that concern, he discovered. Not only is the population of drug-resistant bacteria growing, but they are becoming more virulent, and more resourceful—better able to survive outside of hospitals, and outside of human hosts. Even more alarming: Some of them are even able to pass along their own genetic codes of resistance—"supergenes," Young calls them—to other bacteria.
 
In some cases, the strongest antibiotics currently on the market can't stop them. And the pipeline of new, more effective, antibiotics? It's nearly empty. Leading drug companies have largely put their research and development dollars elsewhere; the cost of bringing a new antibiotic to market is enormous, while the payoff—compared to other drugs, to treat other conditions—is slim.
 
Sympathetic, to a point, Young explains:

"I can put my money into developing a blockbuster drug for some chronic disease, like high blood pressure—something you'll have to take every day for the rest of your life. Or into an antibiotic that you're supposed to use very briefly—and even then, only if you absolutely have to."

From a profit-and-loss point of view, Young concedes, it's "a very tough sell."
 
A Bacteria Balancing Act
 
Also tough: Reversing the trend of over-prescribing antibiotics. On one side, the danger of creating additional drug-resistant strains. On the other, a sick patient, right here, right now. What do you do?
 
What some hospitals have started to do, FRONTLINE found, is make pharmacists part of the medical team—on the floor, going on rounds with the doctors. These pharmacists call on their own knowledge, including, Young says, "the most up-to-date information from the labs about susceptibility and resistance."
 
"The pharmacist isn't in charge of the patient's care," he makes clear.

"They're there as specialists, specifically looking to restrain the use, cut back on the use" of antibiotics.
 
Do the doctors appreciate this change in the pecking order? This shift in the "Docs rule!" hospital culture?
 
It's "a work in progress," Young concedes.  
 
What else has to happen?

For starters: Greater public awareness of the issue. Public pressure that can drive decisions about research funding. An end to complacency among policy makers here and abroad. Creative ways to bring the pharmaceutical industry back to the table, and back to the lab.
 
FRONTLINE doesn't pretend to have all the answers.
 
"We're trying to generate some attention that hopefully will bring about some action," Young explains. It's not a 'How-to'—more a 'What's up?' Here's something that you might not know."