Arts
Learning through Play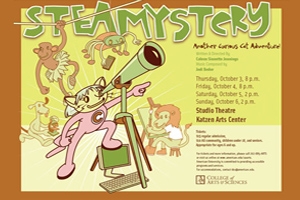 Curious Cat is on the prowl again. The heroine of AU theater professor Caleen Jennings's newest children's play, STEAMystery, embarks on an adventure that kicks off this year's performing arts season dedicated to exploring the links between the arts and sciences. (STEAM represents science, technology, engineering, arts, and math.) "The idea of theater as a meeting place of the disciplines is something that appeals to me greatly. People think of the arts and the sciences as being polar opposites, and they're absolutely not," Jennings says.  
Jennings wanted to write a children's play to fit this season's arts and sciences theme. And so she turned to Curious Cat, the heroine of her 2008 children's play, Chem Mystery. In STEAMystery, Curious Cat and her Zooville school friends are challenged by Principal Panda to compete for "most imaginative project." The students are confused by their assignment, but Principal Panda tells them that the clue to being successful on this project is "STEAM." Still unsure, they tackle the assignment and discover what STEAM really means.  
Writing this show was akin to putting a puzzle together. From Chem Mystery, Jennings had her heroine, Curious Cat, and had Principal Panda at Zooville School, which is in Imagine Nation on the shores of the Whim Sea. She wrote Curious Cat's friends into the cast based on the actors who auditioned and their strengths. For instance, one actor is a gymnast, so she plays Charlotte Cheetah, a dancer.  
One challenge Jennings encountered as her script unfolded was how to turn the play from something "didactic" into something that promotes "fun and discovery." She found her answer by writing a song for each of the STEAM disciplines, around which the characters took shape. The concepts of the contest and working as a team grew out of ideas for easy transitions from one song to the next.
Jennings, who has taught playwriting, acting, and directing at AU since 1989, will teach a workshop, "Putting the Play in Playwriting," following an afternoon performance of the play at this year's Fall for the Arts on October 5. This annual arts fundraiser is open to the general public. In this workshop, she will demonstrate how to transition from conversation to theatrical writing.

Participants will see that playwriting—"planned dialogue"—is natural, part of play, and something most of us did as kids. She worries that parents are over-programming their children. "Children need time to do nothing, to relax, daydream, make up stories, and imagine. That very valuable time is getting written out of the schedule." 
One of Jennings's favorite parts of teaching a playwriting class or workshop is having the playwrights experience their work performed on stage. "It's powerful both for the playwright and for the audience when a playwright is able to put his or her story on stage," she says.
When student works were incorporated into her spring 2013 play, Wecycling, audience members were moved to tears when they experienced the actors' real stories on stage. "It's important that we tell our personal stories and have an audience bear witness. It's one of the most ancient and profound functions of theater," says Jennings.
STEAMystery will run Thursday, October 3, through Sunday, October 6, at the Studio Theatre in the Katzen Arts Center. Thursday and Friday, the show starts at 8:00 p.m. On the weekend, it starts at 2:00 p.m. It is recommended for ages six and up. Jennings and her cast are also taking STEAMystery to Savoy Elementary School in Anacostia.
Fall for the Arts takes place on Saturday, October 5. Jennings's workshop starts at 4:00 p.m., following the 2:00 p.m. performance.