Arts
Musical Collaboration Highlights Change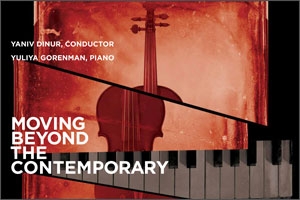 The collaboration concert between the AU Chorus and the AU Symphony Orchestra on November 10 won't be a typical classical music performance. To begin with, the program pieces span the beginning of the 19th century up through the end of the 20th century and include a seldom-performed piece of music from contemporary composer Arvo Pärt, who is still alive today. "It's particularly unusual for a performance to include pieces from such a wide range of time periods," says Daniel Abraham, the show's chorus director and the director of choral activities for the Department of Performing Arts.  
The pieces that were chosen by Abraham and Yaniv Dinur, the performance's conductor and the director of orchestral activities for the Department of Performing Arts, reflect a moment of conscious change during the time period that each was written. "The piece by Beethoven, Fantasy in C minor for piano, chorus, and orchestra, Op. 80—more commonly known as the Choral Fantasy, is the first significant attempt to bring choral and vocal forces into the symphonic medium," says Abraham. "The Wagner piece from Tristan and Isolde very much pushes the boundaries of what is functional tonality. The Pärt piece, Te Deum, showcases tintinnabuli, a new style of music he created."  
Abraham and Dinur wanted to choose pieces that highlighted each of the ensembles and their strengths. "The starting point for us was the Choral Fantasy," says Dinur. "This special piece was written for orchestra, chorus, piano solo, and solo singers." 
From there, they chose two other pieces that matched the multi-element theme. They wanted to include a composition that was contemporary and unusual. The Pärt piece includes a string orchestra, a magnetic tape of a recording of two notes on wind harp played by Pärt himself, and a piano that has screws placed in between the strings, which creates a new kind of sound. "We saw this as a real opportunity to do something that was outside of the norm of what is traditionally performed, particularly at universities," says Abraham. "We wanted to introduce our students and orchestra members to a piece that is stylistically very different."
Celebrated faculty member Yuliya Gorenman is featured in Choral Fantasy. The award-winning pianist has been called a "pianist without fear." Hailed as one of the most exciting Beethoven interpreters of her generation, her sold-out performances of all the Beethoven piano sonatas were critically acclaimed. The first volume of The Gorenman Beethoven Project: Piano Sonatas 1, 2, 3, was released to universal praise.
The performance will take place on Sunday, November 10, at 4:00 p.m. at the National Presbyterian Church at 4101 Nebraska Ave, NW Washington, DC. Tickets are $15 regular admission and $10 for the AU community and seniors. Tickets can be purchased online at american.tix.com or by calling 202-885-ARTS.