Arts
Raoul Middleman's City Limits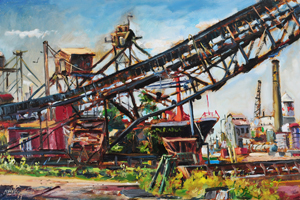 Just 40 miles north of Washington, Baltimore's tall buildings and impressive tourist attractions sit just across the harbor from steel loading elevators and the industrial workings of the Port of Baltimore. A city as beautiful as it is real and decaying fills the paintings of Raoul Middleman, Baltimore native and new exhibitor at the AU Museum at the Katzen Arts Center. Middleman's City Limits exhibition explores the fringes of Charm City, examining the decay and rust of the city so close to the nation's capital as art in itself.
The museum's director and curator, Jack Rasmussen, says Middleman's art directly works to achieve the museum's goal of showcasing international, political, and regional art. "The concept of this show is the fringe of Baltimore," says Rasumussen. "I think of Baltimore as the perfect antidote to Washington, D.C."
In an interview with Rasmussen, Middleman agreed. "Washington is a corporate town, while Baltimore is a haven for eccentrics and characters, loners and misfits," he said.
Over thirty years of painting, Middleman has created work that shows the Baltimore he sees. From The Block, a burlesque area on East Baltimore Street, to rusty and decaying industrial sites, Middleman creates a landscape of Baltimore that he sees as beautiful. "I think Baltimore has a certain funky presence in all its major artists," said Middleman. "It has a squalid degeneracy about it that gets transformed into an icon of subversive glamour."
Middleman's connection to American University comes by way of his cousin, former visual arts instructor and arts advisory board member Carol Brown Goldberg, whose work has been exhibited at the museum. While Middleman's and Goldberg's sides of the family grew apart over time, their shared love of art and work as painters ultimately drew them back together. "They were both raised in Baltimore and they are related," says Rasmussen. "But their work could not be more different. It's an interesting example of nature versus nurture." While Middleman's work is graphic in nature, Goldberg works more with geometric abstraction. "It's good for students to see these different types of work."
Despite his non-traditional content, Middleman's painting technique is extremely traditional. "He actually mixes dry pigments and minerals from the earth right into the oil medium on the palette," says Rasmussen. "This technique is very much entwined with his subject matter."
"The paint itself should have authority," said Middleman. "The paint should participate in the transformation so that you experience the paint, its opacity and transparence, its fluidity and its focus on describing different properties of being."
Middleman's landscape pieces show Baltimore through the window of the real people who live there rather than its political or cultural icons or institutions. "Most people think of landscape as honeybees and flowers and the circuitry of hurtling clouds in the midst of summer splendor," he said. "But the harbor has another kind of beauty with the rot and decay in which nature reclaims manmade things."
The AU Museum is free and open to the public Tuesday through Sunday from 11 a.m. to 4 p.m. Middleman's City Limits will be on display at the AU Museum through March 18.