Arts
Yaniv Dinur Takes Symphony Baton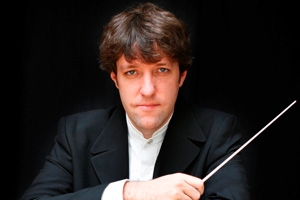 Yaniv Dinur sees classical music as a transcendent journey. The new AU Symphony Orchestra conductor and director of orchestral activities is passionate about filling the concert hall with millennials in an effort to connect more young people with composers such as Robert Schumann, Wolfgang Amadeus Mozart, and Arturo Marquez.
"What I would say to the students is 'come and try it,' Dinur said. "I promise you that you won't be the same."
The length of classical music provides an experience for the listener that is difficult to find in today's quick, pop-music culture, he said.
"The composer takes you through a real journey that you come out of a different person," Dinur said. "This is something that you can't experience in two minutes." The Jerusalem native has received international acclaim, prestigious awards, and experience with some of the best orchestras in the world.
Dinur was drawn to the American University program because of its quality and potential for growth.
"What is special about this orchestra is that it involves music majors, non-music majors that are a very high level, and community members." Dinur said. "It seems like a program that is still developing. I was looking for something like that, something that I can really put my mark on and build."
He also lectures regularly and connects with students through his course "Understanding Music" for non-music majors.
Dinur is looking forward to the 2012–2013 AU Symphony Orchestra season. The fall concert will open with a contemporary piece by Mexican composer Arturo Marquez titled the Danzon No. 2.
"It's always fun to do a piece by a composer who is still alive," Dinur said. "This is an incredible piece. It is only 10 minutes long, and it's intoxicating with its Latin American sounds and rhythms."
Violinist Alison Martin, a junior double major in violin performance and audio production, will also perform the first movement of the Barber Concerto. In the second half of the concert, the AU Symphony Orchestra will play Robert Schumann's Third Symphony. The concert is held November 16 and 17 in the Abramson Family Recital Hall in the Katzen Arts Center.
Among his many accomplishments, Dinur is the winner of the Eduardo Mata International Conducting Competition in Mexico City (2009) and the Yuri Ahronovitch First Prize in the inaugural Aviv Conducting Competition in Tel Aviv (2005).
He has conducted orchestras in the United States, Canada, Portugal, Italy, Russia, and Mexico. He also continues to conduct the Jerusalem Symphony Orchestra each year at the Young Artists Competition.
Dinur completed his doctorate in orchestral conducting at the University of Michigan and has worked closely with world-class conductors including Lorin Maazel, Michael Tilson Thomas, Pinchas Zukerman, and Kurt Masur.