Achievements
College Year in Review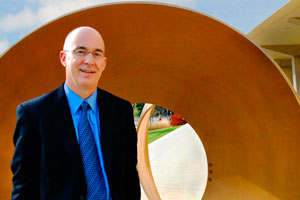 This year, the College of Arts and Sciences welcomed a new dean and celebrated the accomplishments of faculty members across its various disciplines—from the sciences and social sciences to the arts and humanities.
Dean Peter Starr joined the College in July. Dean Starr comes to us from the University of Southern California, where he was a professor of French and Comparative Literature. His primary goals for the College include recruiting and supporting a more research-active and diverse College faculty, developing new, sharply-targeted doctoral programs in the sciences and humanities, and building bridges to partner organizations in D.C. and around the globe. Dean Kay Mussell moved on to serve as the university's interim senior vice provost and dean of academic affairs.  
Four of our faculty members received prestigious awards from the college and university. Mieke Meurs (economics) received the university's Scholar-Teacher of the Year award. The highest annual honor given to a faculty member, the award recognizes the professor who best exemplified the university's ideals of research and teaching excellence during the previous calendar year. Jack Child (LFS/SIS) and Alan Kraut (history/SIS) were named University Professors, a professorial rank that recognizes outstanding interdisciplinary scholarship, teaching, and influence. Anthony Riley (psychology) became the first recipient of the College of Arts and Sciences's Betty T. Bennett Faculty Scholar-Administrator Award. This annual award recognizes a talented faculty member who exhibits superior scholarship and exemplary leadership in an administrative role.
This year, many prestigious organizations honored the College's faculty for their exemplary work. Mustafa Aksakal (history) was awarded a John W. Kluge Fellowship for study at the Library of Congress during AY 2009–10. He is working on a book examining the Ottoman Empire between the two world wars. Fernando Benadon (performing arts) received a 2009 Guggenheim Fellowship, largely for his innovative debut album, Intuitivo, which was released this spring. Michael Black (computer science) was awarded a Fulbright fellowship sponsored by the State Department's Council for International Exchange of Scholars (CIES). This fall, he taught and conducted research at Sankalchand Patel College of Engineering in Visnagar, India. James Girard (chemistry) was named a 2009 Franklin Fellow in May. During his year-long fellowship, he is serving as a science advisor to the U.S. Department of State. In January, Robert Feinberg (economics) was named coeditor of the Southern Economic Journal.  David Vine (anthropology) was appointed as an Associate Fellow at the Institute for Policy Studies for the spring 2010 term. And this December, American University Museum director Jack Rasmussen was awarded a Knight's Cross of the Order of Merit by the Republic of Hungary for his role in bringing Hungarian art to the museum.
Five College departments obtained significant external funding to support their research and programs. Department of Mathematics and Statistics professors Jeffrey Adler, Jeffrey Hakim, and Joshua Lansky collaborated on a $1.2 million, multi-institutional grant from the National Science Foundation to facilitate major research with academic institutions around the world. Victoria Connaughton (biology) is contributing to methylmercury research that recently received a $427, 758 grant from the National Institutes of Health. Amos Golan (economics) received a four-year, $375,300 grant from the U.S. Department of the Treasury to found an Info-Metrics Institute within the Department of Economics. Stanley Weiss (psychology) received $1.3 million dollars to continue his research on "Incentive Properties of Abused Drugs," an NIH-funded project that examines how multiple drug-associated stimuli interact to motivate drug-related behavior. In addition, the college's School of Education, Teaching, and Health and the Department of Mathematics received a $1.5 million grant from the National Science Foundation to support a partnership between Math for America and AU that provides rigorous math training for new teachers.  
Our faculty members produced an array of academic and creative publications, many of which received national and international attention. Kyle Dargan (literature) won the Hurston/Wright Legacy Award in the poetry category for his recent poetry collection, Bouquet of Hungers (University of Georgia, 2008). Allan Lichtman's (history) White Protestant Nation: The Rise of the American Conservative Movement was a finalist for the National Book Critics Circle Award (Atlantic, 2008). Bill Leap (anthropology) won his third Ruth Benedict Prize for Best Anthology for Out in Public: Reinventing Lesbian/Gay Anthropology in a Globalizing World, the third volume in his series on LGBTQ anthropology coedited by University of Iowa's Ellen Lewin. Roberta Rubenstein (literature) published Virginia Woolf and the Russian Point of View, which was reviewed in the December 11 issue of the Times Literary Supplement (Palgrave Macmillan, 2009). Historian in Residence Melvin Urofsky's (history) Louis D. Brandeis: A Life, was reviewed in the New York Times Sunday Book Review in September. In Island of Shame: The Secret History of the U.S. Military Base on Diego Garcia, David Vine (anthropology) examines the human rights violations that the U.S. and British governments committed in order to establish the U.S. military base on Diego Garcia (Princeton, 2009). Consuelo Hernández (language and foreign studies) published Voces y perspectivas en la poesía Latinoamericana del siglo XX (Visor Libros, 2009). The book offers a critical perspective on works by 20th century Latin American poets. Latin American expert Jack Child (Language and Foreign Studies) turned his examination of 40,000 stamps into Miniature Messages, his new book that decodes the messages behind the colorful and sometimes controversial images (Duke University Press).  And in October, conductor Daniel Abraham (performing arts) released Passion and Lament: Choral Masterworks of the 17th Century (Dorian Recordings), performed by Bach Sinfonia and vocal ensemble Sinfonia Voci.