On Campus
Dean Starr Delivers Third Annual Address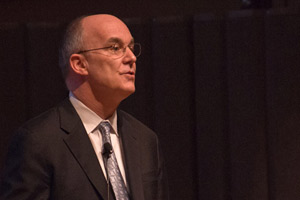 College of Arts and Sciences dean Peter Starr spoke to faculty on Wednesday, April 11, in the Abramson Family Recital Hall. He takes the opportunity each year in his address to recap the year's highlights, report on the current status of College affairs, and project his vision for the future of the College. "It's a chance to review where we are and where we're going," he says.
In the past, he centered his address on building a stronger academic culture within the College and internal and external networking. This year, he focused on historical trends and how they apply to the College itself. He specifically discussed undergraduate and graduate enrollments, research funding, and fundraising. "Instead of a top-down approach, I'm hoping that we'll do things as departments, centers, or as individual researchers that will push us all forward," Starr says.
Starr stressed the importance of the highly accomplished faculty in helping bring about a successful year. Faculty have been honored with awards by the leading organizations in their fields, have been elected as leaders of these organizations, and have received highly coveted fellowships. The faculty have also been honored with some of this university's top awards: Richard Breitman and Allan Lichtman were named Distinguished Professors; Richard Shaw was named the Scholar-Teacher of the Year, Monica Jackson received the Morton Bender Prize; and Jim Girard was recognized with the Outstanding Service to the University Award.
The College was also very successful in hiring top talent during its searches for tenure line faculty in the past year. The College conducted 22 faculty recruitment searches, including four net new tenure lines. New hires have degrees from top universities, and lateral hires were made from the NIH, Purdue, Penn State, and the University of Wisconsin—Madison, among others.

Starr emphasized the importance of shared governance in helping the College to realize its ambitions. The Dean's Advisory Council was revitalized this year under the leadership of Celine Pascale, and a new Term Faculty Task Force led by Professors Glen Moomau and Nuria Vilanova was established. Department budgets have increased and field-specific promotion tracks were developed.

The College saw a significant rise in the number of term faculty on multi-year contracts, and Starr says there will be more to come next year. Term faculty will now receive up to $750 a year for travel and research, as long as they are in the second year of their contract or beyond.
Starr announced some enhancements to research support for all research-active faculty. They will have $1,000 individual research accounts to cover their research expenses. Starr also shared his plans to incentivize tenure-line faculty who submit applications for substantial fellowships and grants from an external agency. They will see their research expense accounts increased by $500 in the fiscal year following their application.
When it comes to external funding, Starr stressed that the College is continuing its push to secure more external funding, especially in fields like the natural and hard sciences where such funding is the norm. Since 2009, the College has seen a 100 percent increase in the number of awards received and a 66 percent increase in dollars awarded, from $6.9 million to $11.4 million. Teach for America, the NIH, and the Department of Education accounted for the top three funding sources in 2012.
The admit rate for new freshman in Fall 2012 declined, with a 34 percent rate for the College, versus a 44 percent projection for the university. The number of majors in the sciences and the arts has increased over the past four years while majors in the humanities and social sciences are seeing less growth. The College's new Public Health program counted over 40 students pursuing the major in its initial year.
Master's enrollments have fallen off in Fall 2010 and in Fall 2011 while doctoral enrollments have remained stable. Starr said that one of the College's highest priorities in the coming year will be to grow master's enrollments.  New partnerships between SETH and Teach for America, City Year, KIPP, and Inspired Teaching Charter Schools and between the Department of Anthropology and SETH and the Peace Corps will contribute significantly to those efforts.
New programs have been approved and others are being developed at both the undergraduate and graduate level.  A Public Health three-year program will begin in Fall 2012; it will be the first AU program with a required study abroad component. Preliminary discussions are underway regarding a new degree in neuroscience.
The College is increasing its online offerings, with substantially more online courses being offered this summer and a new, state-of-the-art teleconferencing and distance classroom. Some of the more successful online summer courses will be included in the fall and spring schedules. Additional study abroad possibilities will be created through the Initiative for Russian Culture.
New master's degrees will be offered starting in Fall 2012 in audio technology and quantitative management and new certificates are planned in addiction and addictive behaviors and international arts management. The College is exploring a master's in global health and executive ed in arts management.
Starr is looking forward to a year in which the College strengthens its ties to the community—internal and external. Activities are being planned that will extend the College's programs and its parties to a larger community. Building on a highly successful year of fundraising which resulted in the Initiative for Russian Culture, the Susan E. Lehrman Chair in Russian History and Culture, a gift of Israeli art from the Rothfeld collection, a bequest in music, and generous faculty and student support from the estate of Jack Child, the College will be reaching out to alumni, parents, and emeriti. Much of the year's success can be attributed to the Arts Council which was established last year. Looking forward, a Science Council will be launched in Fall 2012.

On the party front, the College will hold its first year-end bash, Rockin' the CASbah, April 21, and an arts festival in the fall that will start with hands-on "classes" in the arts and wind up with a gala reception and auction.