Social Science
AU Champions Development Economics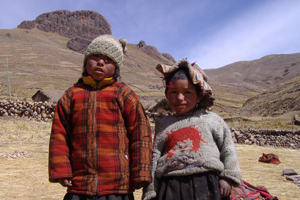 In the 1950s, when the collapse of colonialism left many third world countries independent for the first time, the field of economics saw the advent of a new subdiscipline. Development economics, as it's called, concerns itself with the relationship between market and culture in developing countries.
"Markets don't function in the same way in developing countries," says economics professor Paul Winters, who is researching the economic decision making habits of citizens in poor nations and designing methods to evaluate the efficacy of economic programs in these countries. "There's no banking in rural areas of developing countries, and no traditional collateral. You have to come up with alternative ways of thinking.
AU's Department of Economics has been at the forefront of development economics research and teaching since Professor Emeritus Jim Weaver championed the subdiscipline in the 1960s. "There is a tradition within the department that issues of poverty matter and should be studied by economists," says John Willoughby, professor and former chair.
New Offerings, New Opportunities

Last year, the department supported this tradition by adding a development economics track to its masters program. "We live in a global economy, and people in both developed and nondeveloped countries need to understand each other in order to facilitate the dialogue necessary for us to exist in a global economic context," says professor Maria Floro, who is researching how gender affects the interaction between economic policies and human well-being.
The economics department also worked with SIS to introduce a development economics track within the international development masters program. "Anyone interested in international development would benefit immensely from understanding the economic environments of the countries they are studying," says Floro. "Economic policies have become so influential, and they impact the lives and environments of people in the developing world.
Larry Sawers, professor and former department chair, adds, "So much of development involves economics in so many ways. Employers know this—and they want people who are familiar with economics and not afraid of the lingo."
Why Blanket Economic Theories Fail

While the field has been well represented at AU, this has not always been the case elsewhere. "During the 1980s, a lot of economists adopted the view that all economic systems are the same and that you didn't need to specifically look at those in the third world," says Willoughby. As the economic systems of first world countries proved to be inadequate indicators of third world market phenomena, however, the subdiscipline has regained popularity.
"There's no way that a country like South Africa, with 30 to 40 percent unemployment, is going to behave the same way as one with a 4 to 5 percent unemployment rate," says Tom Hertz, professor of economics and specialist in first, second, and third world labor economics. "In the United States, you can believe it when textbooks say that a large share of unemployment is just the product of a little bit of friction in [the workings of] the labor system. But that doesn't work in South Africa, where there really are two to three million people for whom there simply are no jobs. That really requires a deeper understanding of unemployment."
Studying development economics can also enrich our understanding of first world economies. Caren Grown, economist in residence and specialist in the gender dimensions of international economic policies, uses the emergence of microcredit as an example. The practice of issuing microcredit—small loans to individual borrowers—began at the Grameen Bank in Bangladesh. Bank founder, Muhammed Yunus, recognized that poor people were getting locked out of the market because they did not have loan collateral.
The microcredit movement spread to the United States in the mid- to late 1980s. Now, says Grown, "there are replicas of the Grameen Bank on the south side of Chicago, in rural Arkansas, and in hundreds of communities in the US. It's an innovation that came from the developing world, but that had interesting theoretical and practical applications for entrepreneurship in industrialized economies."
Underlying the discussions of percentages and trends, unemployment rates and program efficacy, however, the heart of development economics is more moral than monetary. Says Willoughby, "In my mind, the big moral issue facing the world is still global equality, and development economics addresses this issue directly."