Science
An Invitation to Experience Awe, and Communicate It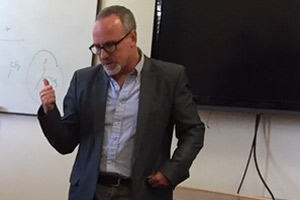 "Science is a reservoir of great stories," author Ivan Amato told 20 AU students, urging them to embrace the art of communication in order to make an impact on their world.
The students are working on faculty research projects as part of AU's Summer Undergraduate Research Experience (SURE) in the Sciences and Math, which offers exposure to diverse areas of scientific research and teaches students how to develop a career in the sciences.
Amato is a highly regarded science journalist — a writer, editor, storyteller, and author who has spent his career deconstructing science and technology and sharing his infectious awe for the wonders of nature. He champions science — and science literacy — through his articles, books, collaborative panel discussions, and well-attended "science cafes" including one at Busboys and Poets in Washington, DC.
Amato is currently serving as a communications and public affairs consultant for DARPA, the US government's Defense Advanced Research Projects Agency, which supports the development of innovative and breakthrough technologies aimed at improving national security.
When he speaks to groups like the AU science students, he stresses the importance of scientists learning to communicate well, not just to other scientists but to lay audiences who may find the technical, multi-syllabic jargon of science off-putting or even incomprehensible.
"My key strategic guidance is to remember what it was like before you knew what you know now," Amato told the students, urging them to learn how to translate their highly technical thoughts, observations, and study findings into plain English.
"Regardless of whether you are interested in pre-med or doing research, communicating well opens all kinds of doors." He noted that scientists who are able to do so might be more successful with grant applications, gaining managerial, decision-making jobs, and talking to state and national legislators who are appropriating money for research.
Science, he said, is pushing what humanity knows, and "an invitation to experience moments of awe." Amato added, "You might discover something no one else on the planet knows." But communicating that awe is crucial, he said, whether it's to a reporter or your friends and family. "It's a great thing, a gift to yourself and others."