On Campus
Political Writer Lectures on Liberal-Zionism Tension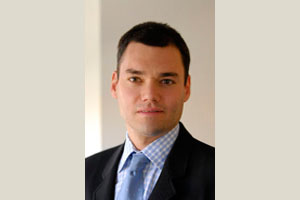 Peter Beinart, fellow at the New America Foundation, senior political writer for the Daily Beast, and associate professor of journalism and political science at City University of New York, is well-versed in world politics. But before his provocative essay entitled "The Failure of the American Jewish Establishment" was published in the New York Review of Books in June 2010, Peter Beinart avoided writing about Israel. His essay touched off a public debate about what values are central to liberal Jews and what this implies for the fate of Zionism.
Beinart presents the Amos Perlmutter Memorial Lecture on this topic on Thursday, February 17, at 7:30 pm in the Abramson Family Recital Hall, Katzen Arts Center. Beinart has authored two books, The Good Fight: Why Liberals—And Only Liberals—Can Win the War on Terror and Make America Great Again (HarperCollins, 2006), and The Icarus Syndrome: A History of American Hubris (HarperCollins, 2010) and was the editor of The New Republic from 1999-2006. Below, Beinart discusses what motivated his NYRB article.
What inspired you to write your New York Review of Books article "The Failure of the American Jewish Establishment"?
"I wrote the piece because I want my children to love Israel for its declaration of independence, which envisions a nation of 'freedom, justice, and peace as envisaged by the Hebrew Prophets,' and I fear that if nothing changes, by the time they become adults Israel will have forfeited that heritage."
Has the response been what you expected or did it exceed your expectations?
"The response was very moving for me. There were disagreements, and a bit of anger from some family and friends, but that was dwarfed by the really touching, often highly personal, stories I heard from many people about their own anguish about what is happening in Israel and the American Jewish leadership's non-response."
Professor Calvin Goldscheider, scholar-in-residence at the AU Center for Israel Studies, will provide a response to Beinart's remarks. "Beinart has written a provocative essay that challenges the accepted wisdom about political culture and democracy in Israel, and in turn, he raises important questions about the supportive views of Israel among those in the American Jewish establishment," says Goldscheider. "Beinart's analysis of the disaffection of young Jewish adults toward the State of Israel further demands the attention of scholars and policy makers, as well the general Jewish community. The implications of his assessment for peace and the quality of life in Israel and for the future relationships between Israel and American Jews are profound.
The lecture is cosponsored by the AU Center for Israel Studies and the School of Public Affairs. To RSVP your attendance at this lecture, please e-mail Laura Cutler at cutler@american.edu.