Arts
Drama Broadens AU-Russia Cultural Exchange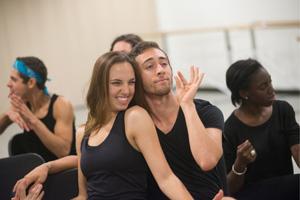 The upcoming AU-Synetic Theater production of Neil Simon's The Good Doctor, featuring five Russian directors, omits something that may shock you.
Words. (Actually, some words are spoken, but only a few.)
AU joins with the Open World Leadership Center, a congressional initiative that fosters better cultural understanding between the United States and Russia, to bring the five young directors and choreographers to Washington to interpret vignettes from Simon's play, a series of Chekhovian sketches set in Russia—told through the special lens of Synetic Theater.
Synetic is best known for award-winning wordless productions of classics such as Macbeth—productions that combine drama, dance, acrobatics, and exciting visual elements. The company's physical productions have won 24 Helen Hayes Awards and 92 nominations.
Each director will produce at least one vignette from The Good Doctor, and Synetic has staged one number with all dozen AU performers taking part in the production, says AU theatre professor Gail Humphries Mardirosian, who is coordinating the project and is principal investigator in the grant that's funding it. The AU students received two weeks of training in Synetic's special brand of physical theatre, and five members of Synetic's company will join them as well.
There will be two performances of The Good Doctor. The September 26 show at AU's Katzen Arts Center is sold out. But you can get a free ticket for the Sunday, September 30, performance at Synetic Theater in Arlington, Virginia, thanks to the grant from Open World Leadership Center. (See ticket details below.)
So why choose The Good Doctor?
"Paata (Tsikurishvili), who's the artistic director at Synetic, when we were planning this, came up with that suggestion, and I jumped at it because it's Neil Simon looking at the stories of Chekhov," says Mardirosian.
"So you have really the essence of what we're doing here. You have the joint forces of a Russian and American writer as Neil Simon interprets the stories of Chekhov and then you have Russian directors with American students and the Synetic Theater actors, and then you have the physical theatre. And we chose physical theatre because it is a unique and fascinating means of communicating stories on stage."
The Russian guest artists are Sergei Karpov, a director at the Fyodor Volkov Russian State Academic Theatre; Polina Nevedomskaya, a choreographer and movement director who has staged productions in St. Petersburg; Maxim Novikov, assistant to the director for Moscow Stanislavsky Drama Theatre; Georgy Tsnobiladze, who has extensive professional directing experience at Lev Dodin Studio and the Maly Drama Theatre as well as teaching experience at St. Petersburg University; and Ilya Varakin, who has acting and directing experience at the Yekaterinburg State Theatre Institute and Fyodor Volkov Russian State Academic Theatre.
AU's connection with the Volkov Russian State Academic Theatre goes back to 2004, when a troupe from there performed at the Harold and Sylvia Greenberg Theatre and conducted master classes with AU students. In 2006 that led to AU students traveling to the Volkov's International Theatre Festival in Yaroslavl, Russia, to participate in master classes and workshops. Further cross-cultural exchanges between AU and Russian theatre students and professionals followed between 2009 and 2012.
As for the directors taking part in this exchange, they can expect an enriching experience.
"While the directors are here, they're really getting a sense of Washington theatre," Mardirosian says. They will attend several theatre productions in the Washington area as well as four different classes at AU. "So we gain a great deal from it, too. Cara Gabriel's teaching The Cherry Orchard and she's going to have two Russian directors in her class. And likewise, Caleen Jennings is teaching hip hop theatre in her African American Gen Ed theatre class, which will be visited by the Russian directors."
Production assistance from Synetic Theater is provided by Ben Cunis (choreographer and project coordinator), Irina Tsikurishvilli (choreographer), Paata Tsikurishvilli (project artistic supervisor), Yulia Kriskovets (senior project coordinator), and Erin Baxter (production coordinator).
Open World project coordinator is Maura Shelden and facilitator is Anna Shulgat.
DPA artist in residence Robb Hunter is AU production coordinator.
The Sunday, September 30, performance at Synetic Theater in Arlington, Virginia, is at 7:30 p.m. To reserve free tickets, visit the Synetic Theater site or call 800-494-8497.