International
Carmel Institute Premieres New Russian Film
Screening at embassy kicks off event-filled season.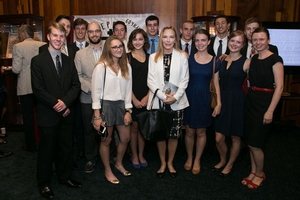 Russian embassy staff and AU's Carmel Institute of Russian Culture and History welcomed students, professors, and Russia studies specialists to the Embassy of the Russian Federation on Thursday, September 15, for the US premiere of Battalion, the latest film by Russian screenwriter and producer Igor Ugolnikov.

The evening was packed, beverages and exquisite Russian food abounded, and an exhibit of Russian World War I uniforms and paraphernalia decorated both levels of the foyer. The premiere set the bar high for what promises to be a very busy 2016–17 season for the
Carmel Institute, which turns five years old this year and has hosted over 20,000 people at its events, thanks to the visionary philanthropy of Susan Carmel.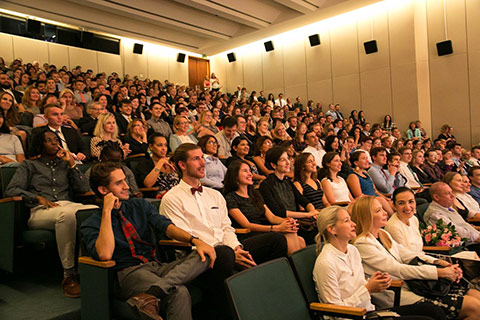 Battalion
Battalion is the first cinematic exploration of Russia's participation in the Great War, the memory of which fell victim to the two revolutions of 1917 that eclipsed the conflict's importance. With the coming of the Bolsheviks to power in October of that year, the heroism of Russian troops who fought in alliance with Great Britain, France, and the United States, became a taboo topic as revolutionary heroes and utopian dreams obscured the grim reality of the Eastern Front. The film also explores Russian wartime patriotism through an unconventional prism—the role of women on the front lines—and follows the journey of the Bochkareva Battalion in the spring and summer of 1917, during the last Russian offensive of WWI before the Bolshevik Revolution.

Battalion shows Russian women as exemplary citizens, especially when contrasted with Bolshevik agitators, unruly male soldiers, and defeatist commanders. Moreover, the unit's heroines are members of the upper and middle classes, not peasants and workers, as Soviet tradition had it. The film is a vivid demonstration of Russian attempts to bridge the great divide produced by 1917—a process that is tortuous and painful, but necessary.

Audience Q&A
During the Q&A with the audience, Ugolnikov said he sought to create a "portrait of Russian women as the country's last hope." Their illusions of war shattered, their hopes lost, the women valiantly push forward, bringing the men out of their defeatism for "the Motherland" once again.

Ugolnikov explained that Soviet films depicted the First World War as a meaningless slaughter waged by profiteers. The Soviet government suppressed memories of the war's heroes because most of them ended up supporting the White anti-Bolshevik forces during the civil war. In Batallion, however, the resounding themes are duty and patriotism and the belief that concerted action can elevate the nation's honor.

The Carmel Institute's Upcoming Season
The film opens an ambitious season for the Carmel Institute, which will host a marathon screening of Russian films about Ivan the Terrible, a joint jazz concert by Igor Butman and Wynton Marsalis, and a symposium dedicated to the Librarian of Congress Emeritus, James H. Billington.

For more information, visit the Carmel Institute.