On Campus
Voice of Anne Frank Combines Theatre, Music, Dance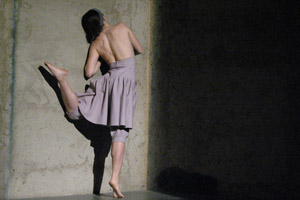 Anne Frank's diary captures the extent of emotions of a young girl developing into a reflective adolescent. This coming of age story moves through the poignant highs of her hopes and her dreams for her life "after the war" to her frustration with the limitations of her confined existence. Her aspirations seem so absurd to her and so impossible to carry out in her circumstances. Her diary entries become increasingly hopeful as word reaches her and her family of the D-Day invasion of Europe, but Anne Frank's final diary entry on August 1, 1944, is horrifying in its urgency: "I am always looking for a way to be as I would like to be and would be if. . . Yes, as if there were no one else living on Earth." After this entry, the diary is gapingly empty.
Anne Frank died in a concentration camp in Bergen-Belsen. Her death's importance is not as a symbol of prisoners' suffering, but as the ending for a young girl whose life was stolen from her.
It is from this awareness that Mirenka Cechova, a Fulbright scholar in residence at American University, unfolds the dramatic story of an adolescent girl and her diary. Her play rises out of the threatening and incomprehensible contradiction between the phenomenon of life and its reduction into a number.
The Voice of Anne Frank is a multi-expressional theatre project filled with verbal and nonverbal theatre and music, dance, and movement. The music was composed by Varhan Orchestrovic Bauer specifically for this project. The development and staging was supported by the European Association of Jewish Culture.
Cechova has MA degrees from the Academy of Performing Arts in Prague in the nonverbal theater and alternative theatre. She is completing her PhD at the Academy focusing on directing physical theatre and mime. Chekova founded Teatro Pantomissimo and Spitfire Company, both professional experimental and visual theatre acting ensembles. As a director, choreographer, and performer, Chechova emphasizes new approaches that translate an actor's strong inner visualization of images from the unconscious using expressive physical technique.
This production will run Friday, January 14, 8 p.m.; Saturday, January 15, 2 p.m.; and Sunday, January 16, 2 p.m. in the Studio Theatre in the Katzen Arts Center. Tickets: $15 general admission, $10 AU community and seniors. For more information and to purchase tickets go to the the webpage. A preview of the performance can be found on Youtube.