Research
Activism and Social Media Course Projects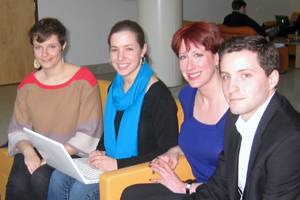 American Studies professor Stef Woods tasked the students in her fall 2011 Activism and Social Media course to put the title of the class into action. She asked students to pick a cause or issue that they cared about and try to make a difference using social media. Alternatively, the students could reach out to an existing nonprofit organization and offer to help with its social media. The class presented their semester-long projects to their fellow students and the AU community in December.
Read on to learn how five students from the Activism and Social Media class made a difference using online tools.
Maggie Campbell, CAS '12
Playasimplemelody: A Queer and Genderqueer Visibility Project

This project was an exploration of personal activism, self-discovery, and my journey into queer Internet space. By actively participating in online queer communities, I hoped to learn more about the relationship between online social networks and queer identities, while sharing my thoughts through Tumblr, Twitter, and Youtube.
In addition to being a valuable personal growth experience, the project allowed me to reach over 250 people through my blog and vlog, increase my knowledge of queer online spaces, and gain a deeper understanding of the Internet as a tool for social activism.
Chris Droukas, SOC '12
Organize DC
Organize DC helps people find volunteer opportunities in the District of Columbia.  I created and developed the site with Colin Musselman, KOGOD '12.

Our mission is to connect people in D.C. with organizations in need of volunteers, make it easier for volunteers to find the volunteer opportunities they're interested in, and make it easier for organizations to reach people in their own backyards. Organize DC is a nonpartisan project with the simple goal of giving back to the D.C. community. Using the site is completely free and always will be, and we plan to donate 25 percent of advertising revenue to local nonprofits.


Katie Huber, Washington Semester
DC Student Guide to Environmental Action
This semester I created a blog to help other college students get involved with environmental organizations around D.C. I volunteered at and interviewed people from environmental organizations, and I posted recaps, photos, and advice on what to expect when volunteering. I also contacted the communications staff from these organizations and used social media to increase the number of readers. 
One of my blog entries was posted as a guest blog on homepage of the Anacostia Watershed Society website. Writing the blog was an amazing experience that allowed me to take advantage of the many volunteering opportunities D.C. has to offer. I hope my blog will inspire other college students to do the same.


Demi McLaren, CAS '12
Do Something in Schools
I enrolled with In2Books to become an online pen pal for a student somewhere in the U.S. to help with their reading comprehension. As an e-mentor, I communicated with my student via online letters through the In2Books website (in coordination with the student's teacher) to make sure she was on track with her classroom reading assignments.
Through my site and passing out flyers about volunteer opportunities at college campuses in D.C., I increased awareness of my peers who wanted to get involved in their communities but didn't know how. Mainly, I promoted educational nonprofit volunteering opportunities, but I also made volunteering easy to those who haven't been involved before (ranging from hands on activities to volunteering from home).


Anthony Palmer, Washington Semester
DC SCORES
I served as a volunteer writer and photographer for DC SCORES, a nonprofit organization that teaches students the value of physical and mental health by organizing and instructing afterschool soccer games and poetry lessons.
I joined the students of Bancroft Elementary every Monday. I contributed to the organization's social media sites by writing blog posts and sharing photos from class sessions with the goal of capturing the firsthand experiences of the students and highlighting the impact this organization has on their lives. Channeling my passion for photography and journalism into a social media project that helped a wonderful organization advocate for an important cause was one of the most exciting and fulfilling experiences of my life.