Alumni
Leading the Nation's Oldest Music Festival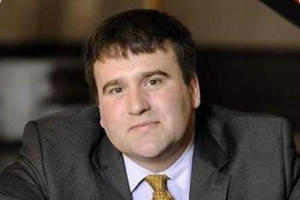 Music Worcester has a new executive director. The small, yet powerful organization, founded in 1858, runs the nation's oldest music festival, the annual Worcester Music Festival in Worcester, Massachusetts. And in August, it hired AU arts management alum Adrien Finlay, MA '07, as its new executive director.
Finlay grew up playing the piano and clarinet in Rhode Island, and continued to build his passion for music through high school. He attended Harvard University, where he studied music and French, and followed up with AU's Arts Management Program. In a recent interview, Finlay discussed his career and time at American University.
What were you doing before starting at Music Worcester?
From 2007 to July 2012, I was employed by the Alexandria Symphony Orchestra. Starting as general manager and then being promoted to executive director, I was fortunate to have led fundraising, operations, and marketing for this regional orchestra. Much of my time was spent focusing on revenue—earned (ticket sales) and unearned (contributions and grants)—while working with a dedicated volunteer board of community leaders from Northern Virginia. The symphony employs top freelance musicians from the greater D.C.-Baltimore region. And I witnessed extraordinary music-making each season.
What brought about the move to your current position at Music Worcester?
Several things. Five-plus years is a good stint at any nonprofit, especially in a leadership position where you worry constantly about the bottom-line and budgeting. Additionally, there is an inevitable pressure to remain constantly relevant and rise above the daily grind of running a small office like the one the symphony had—both of which are very hard to maintain year-after-year. I feel very proud about several accomplishments at the Alexandria Symphony, particularly those concerning the roster of guest artists we were able to secure, an overall trend of increased ticket sales, and two matching campaigns that significantly augmented contributed revenue. The desire for new opportunities and different challenges had been on my mind since early 2012 and I began looking at open positions.
I pursued the opportunity to apply to Music Worcester for a mix of reasons as well. While the organization has its foundation in classical music, it brings talent in from around the world on both the classical and non-classical side. It also has an amazing history going back to 1857 and a number of utterly fantastic venues in which to present events. These reasons, coupled with the reality of a very caring and active board, made me jump at the chance to join Music Worcester over the summer. The opportunities in Worcester are incredible, and I am very pleased to have secured one of the most well-known orchestras in the world to open Music Worcester's 2012–2013 season, the first season I will have programmed (the group will be announced in early 2013).
The arts are a tough field. So why did you choose a career in the music field?
I simply cannot be without music. While I remain an amateur musician myself and play piano for my own enjoyment, I picked this career path to be as close as possible to something I love. During my undergraduate years I came to the realization that my skill sets and interests intersected in arts administration—producing, marketing, and generating interest in musical events while supporting artists at the same time.
How has your education from the AU Arts Management Program helped in your career?
My time at AU—classes, research, employment, mentoring from professors—has proved invaluable. Both Brett Crawford and Robert Goler imparted advice, wisdom, lessons from personal experience, and humor into their classes. I am a stronger manager and arts leader because of my time at AU. I spent my electives continuing piano studies with Yuliya Gorenman, who is an amazing pianist and pedagogue.
Why did you decide to attend the AU Arts Management Program to begin with?
Back in 2004–2005 I was teaching English in a French high school for a year and was figuring out the next steps in my life and work. I knew of course that I wanted, and needed, an opportunity in the arts. I looked into and eventually applied to several arts management programs. One of the major selling points of the AU program was flexibility—classes in the other schools of AU were easily integrated into coursework and I took advantage of that with several Kogod classes. The second selling point was the chance to work directly with the orchestra at AU and Music Director Manny Berard while I was in the Arts Management Program.
For more information on Music Worcester, visit the organization's website. And for more on Adrien Finlay's transition at Music Worcester, read the Worcester Telegram & Gazette's article on the leadership transition.